Rod ends: search by dimensions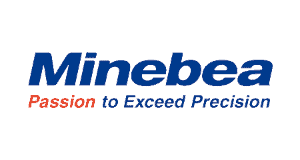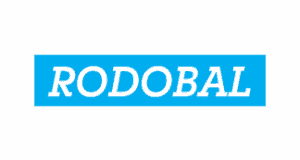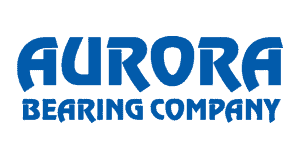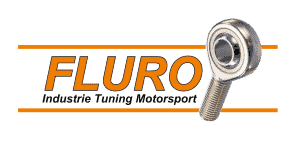 heavy duty shank male rod end
high misalignment male rod end
GENERAL DRAWING
This the drawing for the equal rod ends (bore and thread diameter are equal).
It shows all the functional dimensions that you can use to find the correct rod end.
The equal female rod ends, the heavy duty shank male and the high misalignment male rod ends you will find on the other drawings.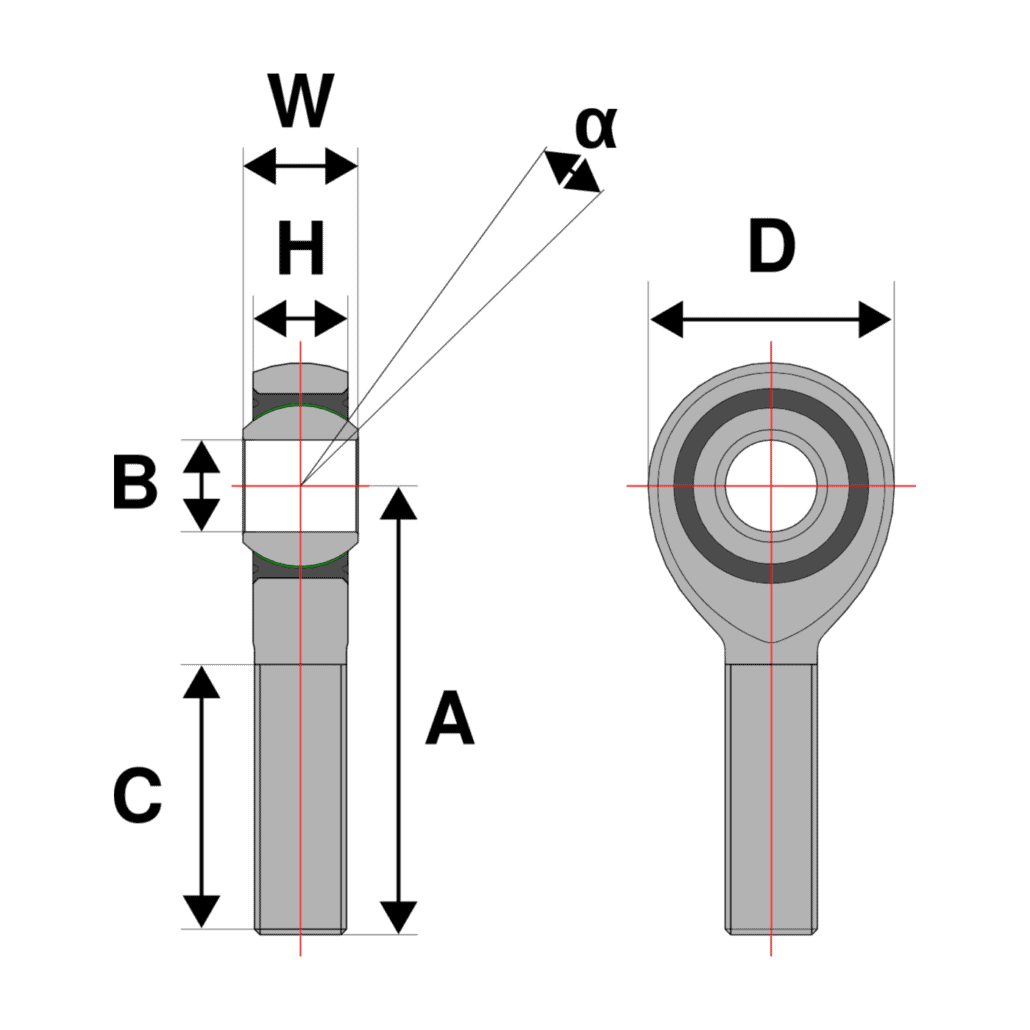 | Right Hand Partnumber | Left Hand Partnumber | Bore [B] | Ball Width [W] | Housing / Race Width [H] | Base to Center [A] | Outside Diameter [D] | Thread Length [C] | Thread | Thread Type | Misalign. Angle [a°] | No Load Breakaway Torque | Manufacter | Body | Race | Ball | t° | Series | M / F | Type |
| --- | --- | --- | --- | --- | --- | --- | --- | --- | --- | --- | --- | --- | --- | --- | --- | --- | --- | --- | --- |
| AM-3T | AB-3T | 4,826 mm (.190") | 7,92 mm (.312") | 6,35 mm (.250") | 31,75 mm (1.250") | 15,88 mm (.625") | 19,05 mm (.750") | #10-32 | UNF-3A | ​10,7° | no preload | Aurora | Alloy steel, heat treated | Low carbon steel | Alloy steel, heat treated, hard chrome plated | 121° C (250° F) | ★★ Basic Motorsport | male | EQ |
| AM-4T | AB-4T | 6,350 mm (.250") | 9,525 mm (.375") | 7,14 mm (.281") | 39,67 mm (1.562") | 19,05 mm (.750") | 25,40 mm (1.000") | 1/4"-28 | UNF-3A | ​14,4° | no preload | Aurora | Alloy steel, heat treated | Low carbon steel | Alloy steel, heat treated, hard chrome plated | 121° C (250° F) | ★★ Basic Motorsport | male | EQ |
| AM-5T | AB-5T | 7,938 mm (.3125") | ​11,10 mm (.437") | 8,74 mm (.344") | 47,625 mm (1.875") | 22,23 mm (.875") | 31,75 mm (1.250") | 5/16"-24 | UNF-3A | ​11° | no preload | Aurora | Alloy steel, heat treated | Low carbon steel | Alloy steel, heat treated, hard chrome plated | 121° C (250° F) | ★★ Basic Motorsport | male | EQ |
| AM-6T | AB-6T | 9,525 mm (.375") | ​12,70 mm (.500") | 10,31 mm (.406") | 49,23 mm (1.938") | 25,40 mm (1.000") | 31,75 mm (1.250") | ​3/8"-24 | UNF-3A | 9,7° | no preload | Aurora | Alloy steel, heat treated | Low carbon steel | Alloy steel, heat treated, hard chrome plated | 121° C (250° F) | ★★ Basic Motorsport | male | EQ |
| AM-7T | AB-7T | ​11,113 mm (.4375") | ​14,27 mm (.562") | 11,10 mm (.437") | 53,975 mm (2.125") | 28,58 mm (1.125") | 34,93 mm (1.375") | ​7/16"-20 | UNF-3A | ​11,2° | no preload | Aurora | Alloy steel, heat treated | Low carbon steel | Alloy steel, heat treated, hard chrome plated | 121° C (250° F) | ★★ Basic Motorsport | male | EQ |
| AM-8T | AB-8T | ​12,700 mm (.500") | ​15,875 mm (.625") | 12,70 mm (.500") | 61,93 mm (2.438") | 33,33 mm (1.312") | 38,10 mm (1.500") | 1/2"-20 | UNF-3A | 9,6° | no preload | Aurora | Alloy steel, heat treated | Low carbon steel | Alloy steel, heat treated, hard chrome plated | 121° C (250° F) | ★★ Basic Motorsport | male | EQ |
| AM-10T | AB-10T | ​15,875 mm (.625") | ​19,05 mm (.750") | 14,27 mm (.562") | 66,675 mm (2.625") | 38,10 mm (1.500") | 41,28 mm (1.625") | 5/8"-18 | UNF-3A | ​11,8° | no preload | Aurora | Alloy steel, heat treated | Low carbon steel | Alloy steel, heat treated, hard chrome plated | 121° C (250° F) | ★★ Basic Motorsport | male | EQ |
| AM-12T | AB-12T | ​19,050 mm (.750") | ​22,225 mm (.875") | 17,45 mm (.687") | 73,025 mm (2.875") | 44,45 mm (1.750") | 44,45 mm (1.750") | ​3/4"-16 | UNF-3A | ​10,3° | no preload | Aurora | Alloy steel, heat treated | Low carbon steel | Alloy steel, heat treated, hard chrome plated | 121° C (250° F) | ★★ Basic Motorsport | male | EQ |
| AM-14T | AB-14T | ​22,225 mm (.875") | ​22,225 mm (.875") | 19,43 mm (.765") | 85,725 mm (3.375") | 50,80 mm (2.000") | 50,80 mm (2.000") | ​7/8"-14 | UNF-3A | 5,7° | no preload | Aurora | Alloy steel, heat treated | Low carbon steel | Alloy steel, heat treated, hard chrome plated | 121° C (250° F) | ★★ Basic Motorsport | male | EQ |
| AM-16T | AB-16T | ​25,400 mm (1.000") | ​34,93 mm (1.375") | 25,40 mm (1.000") | ​104,78 mm (4.125") | 69,85 mm (2.750") | 53,98 mm (2.125") | ​1 1/4"-12 | UNF-3A | ​15° | no preload | Aurora | Alloy steel, heat treated | Low carbon steel | Alloy steel, heat treated, hard chrome plated | 121° C (250° F) | ★★ Basic Motorsport | male | EQ |
| AM-4T-9 | AB-4T-9 | 6,350 mm (.250") | 9,525 mm (.375") | 7,14 mm (.281") | 39,67 mm (1.562") | 18,80 mm (.740") | 25,40 mm (1.000") | 5/16"-24 | UNF-3A | ​14,4° | no preload | Aurora | Alloy steel, heat treated | Alloy steel, heat treated | Alloy steel, heat treated, hard chrome plated | 121° C (250° F) | ★★ Basic Motorsport | male | EQ |
| AM-6T-6 | AB-6T-6 | 9,525 mm (.375") | ​12,70 mm (.500") | 10,31 mm (.406") | 49,23 mm (1.938") | 25,40 mm (1.000") | 30,96 mm (1.219") | 1/2"-20 | UNF-3A | 9,7° | no preload | Aurora | Alloy steel, heat treated | Low carbon steel | Alloy steel, heat treated, hard chrome plated | 121° C (250° F) | ★★ Basic Motorsport | male | EQ |
| AM-6T-7 | AB-6T-7 | 9,525 mm (.375") | ​15,875 mm (.625") | 12,70 mm (.500") | 61,93 mm (2.438") | 33,33 mm (1.312") | 38,10 mm (1.500") | 5/8"-18 | UNF-3A | 9,6° | no preload | Aurora | Alloy steel, heat treated | Low carbon steel | Alloy steel, heat treated, hard chrome plated | 121° C (250° F) | ★★ Basic Motorsport | male | EQ |
| AM-6T-15 | AB-6T-15 | 9,525 mm (.375") | ​15,875 mm (.625") | 12,70 mm (.500") | 61,93 mm (2.438") | 33,33 mm (1.312") | 38,10 mm (1.500") | 1/2"-20 | UNF-3A | 9,6° | no preload | Aurora | Alloy steel, heat treated | Low carbon steel | Alloy steel, heat treated, hard chrome plated | 121° C (250° F) | ★★ Basic Motorsport | male | EQ |
| AM-12T-20 | AB-12T-20 | ​19,050 mm (.750") | ​22,225 mm (.875") | 17,45 mm (.687") | 73,025 mm (2.875") | 44,45 mm (1.750") | 44,45 mm (1.750") | ​7/8"-14 | UNF-3A | ​10,3° | no preload | Aurora | Alloy steel, heat treated | Low carbon steel | Alloy steel, heat treated, hard chrome plated | 121° C (250° F) | ★★ Basic Motorsport | male | EQ |
| AM-12T-22 | AB-12T-22 | ​19,050 mm (.750") | ​22,225 mm (.875") | 17,45 mm (.687") | 73,025 mm (2.875") | 44,45 mm (1.750") | 44,45 mm (1.750") | ​7/8"-14 | UNF-3A | ​10,3° | no preload | Aurora | Alloy steel, heat treated | Alloy steel, heat treated | Alloy steel, heat treated, hard chrome plated | 121° C (250° F) | ★★ Basic Motorsport | male | EQ |
| AM-14T-1 | AB-14T-1 | ​22,225 mm (.875") | ​22,225 mm (.875") | 17,45 mm (.687") | 85,725 mm (3.375") | 50,80 mm (2.000") | 47,63 mm (1.875") | ​7/8"-14 | UNF-3A | ​10,3° | no preload | Aurora | Alloy steel, heat treated | Low carbon steel, heat treated | Alloy steel, heat treated, hard chrome plated | 121° C (250° F) | ★★ Basic Motorsport | male | EQ |
| AM-14T-8 | | ​22,225 mm (.875") | ​22,225 mm (.875") | 19,43 mm (.765") | 88,90 mm (3.500") | 59,05 mm (2.325") | | 1"-14 | UNS-3A | 5,7° | no preload | Aurora | Alloy steel, heat treated | Low carbon steel | Alloy steel, heat treated, hard chrome plated | 121° C (250° F) | ★★ Basic Motorsport | male | EQ |
| AM-14T-70 | | ​22,225 mm (.875") | ​22,225 mm (.875") | 19,43 mm (.765") | 85,725 mm (3.375") | 50,80 mm (2.000") | | ​7/8"-14 | UNF-3A | 6,2° | no preload | Aurora | Alloy steel, heat treated | Low carbon steel | Alloy steel, heat treated, hard chrome plated | 121° C (250° F) | ★★ Basic Motorsport | male | EQ |
| AM-16T-1 | AB-16T-1 | ​25,400 mm (1.000") | ​34,93 mm (1.375") | 25,40 mm (1.000") | ​104,78 mm (4.125") | 69,85 mm (2.750") | 53,98 mm (2.125") | 1"-14 | UNS | ​15° | no preload | Aurora | Alloy steel, heat treated | Low carbon steel | Alloy steel, heat treated, hard chrome plated | 121° C (250° F) | ★★ Basic Motorsport | male | EQ |
| AM-16T-2 | AB-16T-2 | ​25,400 mm (1.000") | ​34,93 mm (1.375") | 25,40 mm (1.000") | ​104,78 mm (4.125") | 69,85 mm (2.750") | 53,98 mm (2.125") | 1"-14 | UNF-3A | ​15° | no preload | Aurora | Alloy steel, heat treated | Low carbon steel | Alloy steel, heat treated, hard chrome plated | 121° C (250° F) | ★★ Basic Motorsport | male | EQ |
| AM-M3T | AB-M3T | 3,000 mm | 6,00 mm | 4,75 mm | 27,00 mm | 12,50 mm | 15,00 mm | M3 x 0,5 | | ​12,4° | no preload | Aurora | Alloy steel, heat treated | Low carbon steel | Alloy steel, heat treated, hard chrome plated | 121° C (250° F) | ★★ Basic Motorsport | male | EQ |
| AM-M5T | AB-M5T | 5,000 mm | 8,00 mm | 6,25 mm | 33,00 mm | 16,00 mm | 20,00 mm | M5 x 0,8 | | ​11,8° | no preload | Aurora | Alloy steel, heat treated | Low carbon steel | Alloy steel, heat treated, hard chrome plated | 121° C (250° F) | ★★ Basic Motorsport | male | EQ |
| AM-M6T | AB-M6T | 6,000 mm | 9,00 mm | 7,00 mm | 36,00 mm | 19,00 mm | 22,00 mm | M6 x 1 | | ​11,7° | no preload | Aurora | Alloy steel, heat treated | Low carbon steel | Alloy steel, heat treated, hard chrome plated | 121° C (250° F) | ★★ Basic Motorsport | male | EQ |
| AMF-M8T | ABF-M8T | 8,000 mm | ​12,00 mm | 8,75 mm | 42,00 mm | 22,25 mm | 25,00 mm | M8 x 1 | | ​15,6° | no preload | Aurora | Alloy steel, heat treated | Low carbon steel | Alloy steel, heat treated, hard chrome plated | 121° C (250° F) | ★★ Basic Motorsport | male | EQ |
| AM-M8T | AB-M8T | 8,000 mm | ​12,00 mm | 8,75 mm | 42,00 mm | 22,25 mm | 25,00 mm | M8 x 1,25 | | ​15,6° | no preload | Aurora | Alloy steel, heat treated | Low carbon steel | Alloy steel, heat treated, hard chrome plated | 121° C (250° F) | ★★ Basic Motorsport | male | EQ |
| AMF-M10T | ABF-M10T | ​10,000 mm | ​14,00 mm | 10,50 mm | 48,00 mm | 27,00 mm | 29,00 mm | M​10 x 1,25 | | ​13,9° | no preload | Aurora | Alloy steel, heat treated | Low carbon steel | Alloy steel, heat treated, hard chrome plated | 121° C (250° F) | ★★ Basic Motorsport | male | EQ |
| AM-M10T | AB-M10T | ​10,000 mm | ​14,00 mm | 10,50 mm | 48,00 mm | 27,00 mm | 29,00 mm | M​10 x 1,5 | | ​13,9° | no preload | Aurora | Alloy steel, heat treated | Low carbon steel | Alloy steel, heat treated, hard chrome plated | 121° C (250° F) | ★★ Basic Motorsport | male | EQ |
| AMF-M12T | ABF-M12T | ​12,000 mm | ​16,00 mm | 12,00 mm | 54,00 mm | 30,00 mm | 33,00 mm | M​12 x 1,25 | | ​13,4° | no preload | Aurora | Alloy steel, heat treated | Low carbon steel | Alloy steel, heat treated, hard chrome plated | 121° C (250° F) | ★★ Basic Motorsport | male | EQ |
| AM-M12T | AB-M12T | ​12,000 mm | ​16,00 mm | 12,00 mm | 54,00 mm | 30,00 mm | 33,00 mm | M​12 x 1,75 | | ​13,4° | no preload | Aurora | Alloy steel, heat treated | Low carbon steel | Alloy steel, heat treated, hard chrome plated | 121° C (250° F) | ★★ Basic Motorsport | male | EQ |
| AMF-M14T | ABF-M14T | ​14,000 mm | ​19,00 mm | 13,50 mm | 60,00 mm | 34,75 mm | 36,00 mm | M​14 x 1,5 | | ​16,3° | no preload | Aurora | Alloy steel, heat treated | Low carbon steel | Alloy steel, heat treated, hard chrome plated | 121° C (250° F) | ★★ Basic Motorsport | male | EQ |
| AM-M14T | AB-M14T | ​14,000 mm | ​19,00 mm | 13,50 mm | 60,00 mm | 34,75 mm | 36,00 mm | M​14 x 2 | | ​16,3° | no preload | Aurora | Alloy steel, heat treated | Low carbon steel | Alloy steel, heat treated, hard chrome plated | 121° C (250° F) | ★★ Basic Motorsport | male | EQ |
| AMF-M16T | ABF-M16T | ​16,000 mm | ​21,00 mm | 14,25 mm | 66,00 mm | 38,00 mm | 40,00 mm | M​16 x 1,5 | | ​17,4° | no preload | Aurora | Alloy steel, heat treated | Low carbon steel | Alloy steel, heat treated, hard chrome plated | 121° C (250° F) | ★★ Basic Motorsport | male | EQ |
| AM-M16T | AB-M16T | ​16,000 mm | ​21,00 mm | 14,25 mm | 66,00 mm | 38,00 mm | 40,00 mm | M​16 x 2 | | ​17,4° | no preload | Aurora | Alloy steel, heat treated | Low carbon steel | Alloy steel, heat treated, hard chrome plated | 121° C (250° F) | ★★ Basic Motorsport | male | EQ |
| AM-M18T | AB-M18T | ​18,000 mm | ​23,00 mm | 16,25 mm | 72,00 mm | 42,00 mm | 44,00 mm | M​18 x 1,5 | | ​15,6° | no preload | Aurora | Alloy steel, heat treated | Low carbon steel | Alloy steel, heat treated, hard chrome plated | 121° C (250° F) | ★★ Basic Motorsport | male | EQ |
| AMF-M20T | ABF-M20T | ​20,000 mm | ​25,00 mm | 18,00 mm | 78,00 mm | 46,00 mm | 47,00 mm | M​20 x 1,5 | | ​14,7° | no preload | Aurora | Alloy steel, heat treated | Low carbon steel | Alloy steel, heat treated, hard chrome plated | 121° C (250° F) | ★★ Basic Motorsport | male | EQ |
| AM-M20T | AB-M20T | ​20,000 mm | ​25,00 mm | 18,00 mm | 78,00 mm | 46,00 mm | 47,00 mm | M​20 x 2,5 | | ​14,7° | no preload | Aurora | Alloy steel, heat treated | Low carbon steel | Alloy steel, heat treated, hard chrome plated | 121° C (250° F) | ★★ Basic Motorsport | male | EQ |
| AM-M22T | AB-M22T | ​22,000 mm | ​28,00 mm | 19,50 mm | 86,00 mm | 50,00 mm | 51,00 mm | M​22 x 1,5 | | ​16,5° | no preload | Aurora | Alloy steel, heat treated | Low carbon steel | Alloy steel, heat treated, hard chrome plated | 121° C (250° F) | ★★ Basic Motorsport | male | EQ |
| AM-M25T | AB-M25T | ​25,000 mm | ​31,00 mm | 22,00 mm | 95,00 mm | 60,00 mm | 57,00 mm | M​24 x 2 | | ​15,4° | no preload | Aurora | Alloy steel, heat treated | Low carbon steel | Alloy steel, heat treated, hard chrome plated | 121° C (250° F) | ★★ Basic Motorsport | male | EQ |
| AM-M30T | AB-M30T | ​30,000 mm | ​37,00 mm | 25,40 mm (1.000") | ​104,78 mm (4.125") | 69,85 mm (2.750") | 60,00 mm | M​30 x 2 | | ​16,5° | no preload | Aurora | Alloy steel, heat treated | Low carbon steel | Alloy steel, heat treated, hard chrome plated | 121° C (250° F) | ★★ Basic Motorsport | male | EQ |
| MM-2T | MB-2T | 3,175 mm (.125") | 6,35 mm (.250") | 4,75 mm (.187") | 23,80 mm (.937") | 12,70 mm (.500") | 14,27 mm (.562") | ​#6-32 | UNC | ​16,4° | no preload | Aurora | Alloy steel, heat treated | Low carbon steel | Alloy steel, heat treated, hard chrome plated | 121° C (250° F) | ★ Premium Industrial | male | EQ |
| MM-3T | MB-3T | 4,826 mm (.190") | 7,92 mm (.312") | 6,35 mm (.250") | 31,75 mm (1.250") | 15,88 mm (.625") | 19,05 mm (.750") | #10-32 | UNF-3A | ​10,7° | no preload | Aurora | Low carbon steel | Low carbon steel | Alloy steel, heat treated, hard chrome plated | 121° C (250° F) | ★ Premium Industrial | male | EQ |
| MM-4T | MB-4T | 6,350 mm (.250") | 9,525 mm (.375") | 7,14 mm (.281") | 39,67 mm (1.562") | 19,05 mm (.750") | 25,40 mm (1.000") | 1/4"-28 | UNF-3A | ​14,4° | no preload | Aurora | Low carbon steel | Low carbon steel | Alloy steel, heat treated, hard chrome plated | 121° C (250° F) | ★ Premium Industrial | male | EQ |
| MM-5T | MB-5T | 7,938 mm (.3125") | ​11,10 mm (.437") | 8,74 mm (.344") | 47,625 mm (1.875") | 22,23 mm (.875") | 31,75 mm (1.250") | 5/16"-24 | UNF-3A | ​11° | no preload | Aurora | Low carbon steel | Low carbon steel | Alloy steel, heat treated, hard chrome plated | 121° C (250° F) | ★ Premium Industrial | male | EQ |
| MM-6T | MB-6T | 9,525 mm (.375") | ​12,70 mm (.500") | 10,31 mm (.406") | 49,23 mm (1.938") | 25,40 mm (1.000") | 31,75 mm (1.250") | ​3/8"-24 | UNF-3A | 9,7° | no preload | Aurora | Low carbon steel | Low carbon steel | Alloy steel, heat treated, hard chrome plated | 121° C (250° F) | ★ Premium Industrial | male | EQ |
| MM-7T | MB-7T | ​11,113 mm (.4375") | ​14,27 mm (.562") | 11,10 mm (.437") | 53,975 mm (2.125") | 28,58 mm (1.125") | 34,93 mm (1.375") | ​7/16"-20 | UNF-3A | ​11,2° | no preload | Aurora | Low carbon steel | Low carbon steel | Alloy steel, heat treated, hard chrome plated | 121° C (250° F) | ★ Premium Industrial | male | EQ |
| MM-8T | MB-8T | ​12,700 mm (.500") | ​15,875 mm (.625") | 12,70 mm (.500") | 61,93 mm (2.438") | 33,33 mm (1.312") | 38,10 mm (1.500") | 1/2"-20 | UNF-3A | 9,6° | no preload | Aurora | Low carbon steel | Low carbon steel | Alloy steel, heat treated, hard chrome plated | 121° C (250° F) | ★ Premium Industrial | male | EQ |
| MM-10T | MB-10T | ​15,875 mm (.625") | ​19,05 mm (.750") | 14,27 mm (.562") | 66,675 mm (2.625") | 38,10 mm (1.500") | 41,28 mm (1.625") | 5/8"-18 | UNF-3A | ​11,8° | no preload | Aurora | Low carbon steel | Low carbon steel | Alloy steel, heat treated, hard chrome plated | 121° C (250° F) | ★ Premium Industrial | male | EQ |
| MM-12T | MB-12T | ​19,050 mm (.750") | ​22,225 mm (.875") | 17,45 mm (.687") | 73,025 mm (2.875") | 44,45 mm (1.750") | 44,45 mm (1.750") | ​3/4"-16 | UNF-3A | ​10,3° | no preload | Aurora | Low carbon steel | Low carbon steel | Alloy steel, heat treated, hard chrome plated | 121° C (250° F) | ★ Premium Industrial | male | EQ |
| MM-14T | MB-14T | ​22,225 mm (.875") | ​22,225 mm (.875") | 19,43 mm (.765") | 85,725 mm (3.375") | 50,80 mm (2.000") | 50,80 mm (2.000") | ​7/8"-14 | UNF-3A | 5,7° | no preload | Aurora | Low carbon steel | Low carbon steel | Alloy steel, heat treated, hard chrome plated | 121° C (250° F) | ★ Premium Industrial | male | EQ |
| MM-14T-1 | MB-14T-1 | ​22,225 mm (.875") | ​22,225 mm (.875") | 17,45 mm (.687") | 85,725 mm (3.375") | 50,80 mm (2.000") | 50,80 mm (2.000") | ​7/8"-14 | UNF-3A | ​10,3° | no preload | Aurora | Low carbon steel | Low carbon steel | Alloy steel, heat treated, hard chrome plated | 121° C (250° F) | ★ Premium Industrial | male | EQ |
| MM-16T | MB-16T | ​25,400 mm (1.000") | ​34,93 mm (1.375") | 25,40 mm (1.000") | ​104,78 mm (4.125") | 69,85 mm (2.750") | 53,98 mm (2.125") | ​1 1/4"-12 | UNF-3A | ​10,6° | no preload | Aurora | Alloy steel | Low carbon steel | Alloy steel, heat treated, hard chrome plated | 121° C (250° F) | ★ Premium Industrial | male | EQ |
| MM-16T-1 | MB-16T-1 | ​25,400 mm (1.000") | ​34,93 mm (1.375") | 25,40 mm (1.000") | ​104,78 mm (4.125") | 69,85 mm (2.750") | 53,98 mm (2.125") | 1"-14 | UNS | ​10,6° | no preload | Aurora | Alloy steel | Low carbon steel | Alloy steel, heat treated, hard chrome plated | 121° C (250° F) | ★ Premium Industrial | male | EQ |
| MM-16T-2 | MB-16T-2 | ​25,400 mm (1.000") | ​34,93 mm (1.375") | 25,40 mm (1.000") | ​104,78 mm (4.125") | 69,85 mm (2.750") | 53,98 mm (2.125") | 1"-14 | UNF-3A | ​10,6° | no preload | Aurora | Alloy steel | Low carbon steel | Alloy steel, heat treated, hard chrome plated | 121° C (250° F) | ★ Premium Industrial | male | EQ |
| HXAM-3T | HXAB-3T | 4,826 mm (.190") | ​12,70 mm (.500") | 5,59 mm (.220") | 39,67 mm (1.562") | 20,47 mm (.806") | 25,40 mm (1.000") | 5/16"-24 | UNJF-3A | ​17° | preloaded fit | Aurora | 4340 low carbon steel, heat treated | 17-4 PH stainless steel, heat treated | Alloy steel, heat treated, hard chrome plated | 163° C (325° F) | ★★★ Performance Motorsport | male | HM |
| HXAM-4T | HXAB-4T | 6,350 mm (.250") | ​15,06 mm (.593") | 6,73 mm (.265") | 49,23 mm (1.938") | 26,04 mm (1.025") | 30,15 mm (1.187") | ​3/8"-24 | UNJF-3A | ​23° | preloaded fit | Aurora | 4340 low carbon steel, heat treated | 17-4 PH stainless steel, heat treated | Alloy steel, heat treated, hard chrome plated | 163° C (325° F) | ★★★ Performance Motorsport | male | HM |
| HXAM-5T | HXAB-5T | 7,938 mm (.3125") | ​20,65 mm (.813") | 9,02 mm (.355") | 53,975 mm (2.125") | 29,21 mm (1.150") | 30,15 mm (1.187") | ​7/16"-20 | UNJF-3A | ​22° | preloaded fit | Aurora | 4340 low carbon steel, heat treated | 17-4 PH stainless steel, heat treated | Alloy steel, heat treated, hard chrome plated | 163° C (325° F) | ★★★ Performance Motorsport | male | HM |
| HXAM-6T | HXAB-6T | 9,525 mm (.375") | ​20,65 mm (.813") | 9,02 mm (.355") | 53,975 mm (2.125") | 29,21 mm (1.150") | 33,33 mm (1.312") | ​7/16"-20 | UNJF-3A | ​22° | preloaded fit | Aurora | 4340 low carbon steel, heat treated | 17-4 PH stainless steel, heat treated | Alloy steel, heat treated, hard chrome plated | 163° C (325° F) | ★★★ Performance Motorsport | male | HM |
| HXAM-6T-4 | | 9,525 mm (.375") | ​20,65 mm (.813") | 9,02 mm (.355") | 53,975 mm (2.125") | 29,21 mm (1.150") | | ​3/8"-24 | UNJF-3A | | preloaded fit | Aurora | 4340 low carbon steel, heat treated | 17-4 PH stainless steel, heat treated | Alloy steel, heat treated, hard chrome plated | 163° C (325° F) | ★★★ Performance Motorsport | male | HM |
| HXAM-7T | HXAB-7T | ​11,113 mm (.4375") | ​22,225 mm (.875") | 9,02 mm (.355") | 61,93 mm (2.438") | 33,96 mm (1.337") | 36,50 mm (1.437") | 1/2"-20 | UNJF-3A | ​21° | preloaded fit | Aurora | 4340 low carbon steel, heat treated | 17-4 PH stainless steel, heat treated | Alloy steel, heat treated, hard chrome plated | 163° C (325° F) | ★★★ Performance Motorsport | male | HM |
| HXAM-8T | HXAB-8T | ​12,700 mm (.500") | ​23,80 mm (.937") | 10,44 mm (.411") | 66,675 mm (2.625") | 38,74 mm (1.525") | 39,67 mm (1.562") | 5/8"-18 | UNJF-3A | ​19° | preloaded fit | Aurora | 4340 low carbon steel, heat treated | 17-4 PH stainless steel, heat treated | Alloy steel, heat treated, hard chrome plated | 163° C (325° F) | ★★★ Performance Motorsport | male | HM |
| HXAM-8T-8 | | ​12,700 mm (.500") | ​23,80 mm (.937") | 10,44 mm (.411") | 66,675 mm (2.625") | 38,74 mm (1.525") | | 1/2"-20 | UNJF-3A | | preloaded fit | Aurora | 4340 low carbon steel, heat treated | 17-4 PH stainless steel, heat treated | Alloy steel, heat treated, hard chrome plated | 163° C (325° F) | ★★★ Performance Motorsport | male | HM |
| HXAM-10T | HXAB-10T | ​15,875 mm (.625") | ​30,48 mm (1.200") | 14,66 mm (.577") | 73,025 mm (2.875") | 45,09 mm (1.775") | 42,85 mm (1.687") | ​3/4"-16 | UNJF-3A | ​19° | preloaded fit | Aurora | 4340 low carbon steel, heat treated | 17-4 PH stainless steel, heat treated | Alloy steel, heat treated, hard chrome plated | 163° C (325° F) | ★★★ Performance Motorsport | male | HM |
| HXAM-12T | HXAB-12T | ​19,050 mm (.750") | ​32,51 mm (1.280") | 16,00 mm (.630") | 85,725 mm (3.375") | 51,44 mm (2.025") | 50,80 mm (2.000") | ​7/8"-14 | UNJF-3A | ​18° | preloaded fit | Aurora | 4340 low carbon steel, heat treated | 17-4 PH stainless steel, heat treated | Alloy steel, heat treated, hard chrome plated | 163° C (325° F) | ★★★ Performance Motorsport | male | HM |
| PRM-5T | PRB-5T | 7,938 mm (.3125") | ​11,10 mm (.437") | 8,31 mm (.327") | 47,625 mm (1.875") | 22,86 mm (.900") | 30,15 mm (1.187") | 5/16"-24 | UNJF-3A | ​14° | 1-15 In-Lbs | Aurora | 4340 low carbon steel, heat treated | 17-4 PH stainless steel, heat treated | Alloy steel, heat treated, hard chrome plated | 163° C (325° F) | ★★★ Performance Motorsport | male | EQ |
| PRM-6T | PRB-6T | 9,525 mm (.375") | ​12,70 mm (.500") | 10,57 mm (.416") | 49,23 mm (1.938") | 26,04 mm (1.025") | 30,15 mm (1.187") | ​3/8"-24 | UNJF-3A | 9,4° | 1-15 In-Lbs | Aurora | 4340 low carbon steel, heat treated | 17-4 PH stainless steel, heat treated | Alloy steel, heat treated, hard chrome plated | 163° C (325° F) | ★★★ Performance Motorsport | male | EQ |
| PRM-7T | PRB-7T | ​11,113 mm (.4375") | ​14,27 mm (.562") | 11,48 mm (.452") | 53,975 mm (2.125") | 29,21 mm (1.150") | 32,54 mm (1.281") | ​7/16"-20 | UNJF-3A | ​10,7° | 1-15 In-Lbs | Aurora | 4340 low carbon steel, heat treated | 17-4 PH stainless steel, heat treated | Alloy steel, heat treated, hard chrome plated | 163° C (325° F) | ★★★ Performance Motorsport | male | EQ |
| PRM-8T | PRB-8T | ​12,700 mm (.500") | ​15,875 mm (.625") | 12,70 mm (.500") | 61,93 mm (2.438") | 33,96 mm (1.337") | 37,29 mm (1.468") | 1/2"-20 | UNJF-3A | ​10,7° | 1-15 In-Lbs | Aurora | 4340 low carbon steel, heat treated | 17-4 PH stainless steel, heat treated | Alloy steel, heat treated, hard chrome plated | 163° C (325° F) | ★★★ Performance Motorsport | male | EQ |
| PRM-10T | PRB-10T | ​15,875 mm (.625") | ​19,05 mm (.750") | 14,66 mm (.577") | 66,675 mm (2.625") | 38,74 mm (1.525") | 39,67 mm (1.562") | 5/8"-18 | UNJF-3A | ​12° | 1-15 In-Lbs | Aurora | 4340 low carbon steel, heat treated | 17-4 PH stainless steel, heat treated | Alloy steel, heat treated, hard chrome plated | 163° C (325° F) | ★★★ Performance Motorsport | male | EQ |
| PRM-12T | PRB-12T | ​19,050 mm (.750") | ​22,225 mm (.875") | 16,26 mm (.640") | 73,025 mm (2.875") | 45,09 mm (1.775") | 42,85 mm (1.687") | ​3/4"-16 | UNJF-3A | ​13,6° | 1-15 In-Lbs | Aurora | 4340 low carbon steel, heat treated | 17-4 PH stainless steel, heat treated | Alloy steel, heat treated, hard chrome plated | 163° C (325° F) | ★★★ Performance Motorsport | male | EQ |
| PRXM-4T | PRXB-4T | 6,350 mm (.250") | 9,525 mm (.375") | 8,56 mm (.337") | 39,67 mm (1.562") | 20,47 mm (.806") | 24,59 mm (.968") | 5/16"-24 | UNJF-3A | 5,5° | 1-15 In-Lbs | Aurora | 4340 low carbon steel, heat treated | 17-4 PH stainless steel, heat treated | Alloy steel, heat treated, hard chrome plated | 163° C (325° F) | ★★★ Performance Motorsport | male | HD |
| PRXM-5T | PRXB-5T | 7,938 mm (.3125") | ​11,10 mm (.437") | 8,31 mm (.327") | 47,625 mm (1.875") | 22,86 mm (.900") | 30,15 mm (1.187") | ​3/8"-24 | UNJF-3A | ​14° | 1-15 In-Lbs | Aurora | 4340 low carbon steel, heat treated | 17-4 PH stainless steel, heat treated | Alloy steel, heat treated, hard chrome plated | 163° C (325° F) | ★★★ Performance Motorsport | male | HD |
| PRXM-5T-1 | | 7,938 mm (.3125") | ​11,10 mm (.437") | 8,31 mm (.327") | 68,25 mm (2.687") | 26,04 mm (1.025") | | ​7/16"-20 | UNJF-3A | | preloaded fit | Aurora | 4340 low carbon steel, heat treated | 17-4 PH stainless steel, heat treated | Alloy steel, heat treated, hard chrome plated | 163° C (325° F) | ★★★ Performance Motorsport | male | HD |
| PRXM-6T | PRXB-6T | 9,525 mm (.375") | ​12,70 mm (.500") | 10,57 mm (.416") | 49,23 mm (1.938") | 26,04 mm (1.025") | 30,15 mm (1.187") | ​7/16"-20 | UNJF-3A | 9,4° | 1-15 In-Lbs | Aurora | 4340 low carbon steel, heat treated | 17-4 PH stainless steel, heat treated | Alloy steel, heat treated, hard chrome plated | 163° C (325° F) | ★★★ Performance Motorsport | male | HD |
| PRXM-6T-4 | | 9,525 mm (.375") | ​12,70 mm (.500") | 10,57 mm (.416") | 69,85 mm (2.750") | 31,75 mm (1.250") | | 1/2"-20 | UNJF-3A | | preloaded fit | Aurora | 4340 low carbon steel, heat treated | 17-4 PH stainless steel, heat treated | Alloy steel, heat treated, hard chrome plated | 163° C (325° F) | ★★★ Performance Motorsport | male | HD |
| PRXM-7T | PRXB-7T | ​11,113 mm (.4375") | ​14,27 mm (.562") | 11,48 mm (.452") | 53,975 mm (2.125") | 29,21 mm (1.150") | 32,54 mm (1.281") | 1/2"-20 | UNJF-3A | ​10,7° | 1-15 In-Lbs | Aurora | 4340 low carbon steel, heat treated | 17-4 PH stainless steel, heat treated | Alloy steel, heat treated, hard chrome plated | 163° C (325° F) | ★★★ Performance Motorsport | male | HD |
| PRXM-7T-1 | | ​11,113 mm (.4375") | ​14,27 mm (.562") | 11,48 mm (.452") | 63,50 mm (2.500") | 31,62 mm (1.245") | | 1/2"-20 | UNJF-3A | | preloaded fit | Aurora | 4340 low carbon steel, heat treated | 17-4 PH stainless steel, heat treated | Alloy steel, heat treated, hard chrome plated | 163° C (325° F) | ★★★ Performance Motorsport | male | HD |
| PRXM-8T | PRXB-8T | ​12,700 mm (.500") | ​15,875 mm (.625") | 13,08 mm (.515") | 61,93 mm (2.438") | 33,96 mm (1.337") | 37,29 mm (1.468") | 5/8"-18 | UNJF-3A | 9,5° | 1-15 In-Lbs | Aurora | 4340 low carbon steel, heat treated | 17-4 PH stainless steel, heat treated | Alloy steel, heat treated, hard chrome plated | 163° C (325° F) | ★★★ Performance Motorsport | male | HD |
| PRXM-10T | PRXB-10T | ​15,875 mm (.625") | ​19,05 mm (.750") | 14,66 mm (.577") | 66,675 mm (2.625") | 38,74 mm (1.525") | 39,67 mm (1.562") | ​3/4"-16 | UNJF-3A | ​12° | 1-15 In-Lbs | Aurora | 4340 low carbon steel, heat treated | 17-4 PH stainless steel, heat treated | Alloy steel, heat treated, hard chrome plated | 163° C (325° F) | ★★★ Performance Motorsport | male | HD |
| RAM-3T | RAB-3T | 4,826 mm (.190") | 7,92 mm (.312") | 6,35 mm (.250") | 31,75 mm (1.250") | 15,88 mm (.625") | 19,05 mm (.750") | #10-32 | UNF-3A | ​10,7° | no preload | Aurora | Alloy steel, heat treated, electroless nickel plated | Alloy steel, heat treated, electroless nickel plated | Alloy steel, heat treated, hard chrome plated | 121° C (250° F) | ★★ Basic Motorsport | male | EQ |
| RAM-4T | RAB-4T | 6,350 mm (.250") | 9,525 mm (.375") | 7,14 mm (.281") | 39,67 mm (1.562") | 19,05 mm (.750") | 25,40 mm (1.000") | 1/4"-28 | UNJF-3A | ​14,4° | no preload | Aurora | Alloy steel, heat treated, electroless nickel plated | Alloy steel, heat treated, electroless nickel plated | Alloy steel, heat treated, hard chrome plated | 121° C (250° F) | ★★ Basic Motorsport | male | EQ |
| RAM-5T | RAB-5T | 7,938 mm (.3125") | ​11,10 mm (.437") | 8,74 mm (.344") | 47,625 mm (1.875") | 22,23 mm (.875") | 30,15 mm (1.187") | 5/16"-24 | UNJF-3A | ​11° | no preload | Aurora | Alloy steel, heat treated, electroless nickel plated | Alloy steel, heat treated, electroless nickel plated | Alloy steel, heat treated, hard chrome plated | 121° C (250° F) | ★★ Basic Motorsport | male | EQ |
| RAM-6T | RAB-6T | 9,525 mm (.375") | ​12,70 mm (.500") | 10,31 mm (.406") | 49,23 mm (1.938") | 25,40 mm (1.000") | 30,15 mm (1.187") | ​3/8"-24 | UNJF-3A | 9,7° | no preload | Aurora | Alloy steel, heat treated, electroless nickel plated | Alloy steel, heat treated, electroless nickel plated | Alloy steel, heat treated, hard chrome plated | 121° C (250° F) | ★★ Basic Motorsport | male | EQ |
| RAM-7T | RAB-7T | ​11,113 mm (.4375") | ​14,27 mm (.562") | 11,10 mm (.437") | 53,975 mm (2.125") | 28,58 mm (1.125") | 33,33 mm (1.312") | ​7/16"-20 | UNJF-3A | ​11,2° | no preload | Aurora | Alloy steel, heat treated, electroless nickel plated | Alloy steel, heat treated, electroless nickel plated | Alloy steel, heat treated, hard chrome plated | 121° C (250° F) | ★★ Basic Motorsport | male | EQ |
| RAM-8T | RAB-8T | ​12,700 mm (.500") | ​15,875 mm (.625") | 12,70 mm (.500") | 61,93 mm (2.438") | 33,33 mm (1.312") | 36,50 mm (1.437") | 1/2"-20 | UNJF-3A | 9,6° | no preload | Aurora | Alloy steel, heat treated | Alloy steel, heat treated | Alloy steel, heat treated, hard chrome plated | 163° C (325° F) | ★★ Basic Motorsport | male | EQ |
| RAM-10T | RAB-10T | ​15,875 mm (.625") | ​19,05 mm (.750") | 14,27 mm (.562") | 66,675 mm (2.625") | 38,10 mm (1.500") | 39,67 mm (1.562") | 5/8"-18 | UNJF-3A | ​11,8° | no preload | Aurora | Alloy steel, heat treated, electroless nickel plated | Alloy steel, heat treated, electroless nickel plated | Alloy steel, heat treated, hard chrome plated | 121° C (250° F) | ★★ Basic Motorsport | male | EQ |
| RAM-12T | RAB-12T | ​19,050 mm (.750") | ​22,225 mm (.875") | 17,45 mm (.687") | 73,025 mm (2.875") | 44,45 mm (1.750") | 42,85 mm (1.687") | ​3/4"-16 | UNJF-3A | ​10,3° | no preload | Aurora | Alloy steel, heat treated, electroless nickel plated | Alloy steel, heat treated, electroless nickel plated | Alloy steel, heat treated, hard chrome plated | 121° C (250° F) | ★★ Basic Motorsport | male | EQ |
| RAM-8T-5 | RAB-8T-5 | ​12,700 mm (.500") | ​19,05 mm (.750") | 17,45 mm (.687") | 73,025 mm (2.875") | 44,20 mm (1.740") | 42,85 mm (1.687") | ​3/4"-16 | UNJF-3A | 3,3° | no preload | Aurora | Alloy steel, heat treated, electroless nickel plated | Alloy steel, heat treated, electroless nickel plated | Alloy steel, heat treated, hard chrome plated | 121° C (250° F) | ★★ Basic Motorsport | male | EQ |
| RAM-10T-12 | RAB-10T-12 | ​15,875 mm (.625") | ​22,225 mm (.875") | 17,45 mm (.687") | 73,025 mm (2.875") | 44,45 mm (1.750") | 42,85 mm (1.687") | ​3/4"-16 | UNJF-3A | ​10,3° | no preload | Aurora | Alloy steel, heat treated, electroless nickel plated | Alloy steel, heat treated, electroless nickel plated | Alloy steel, heat treated, hard chrome plated | 121° C (250° F) | ★★ Basic Motorsport | male | EQ |
| RAM-14T-1 | RAB-14T-1 | ​22,225 mm (.875") | ​22,225 mm (.875") | 19,43 mm (.765") | 85,725 mm (3.375") | 50,80 mm (2.000") | 50,80 mm (2.000") | ​7/8"-14 | UNJF-3A | 5,7° | no preload | Aurora | Alloy steel, heat treated | Alloy steel, heat treated | Alloy steel, heat treated, hard chrome plated | 163° C (325° F) | ★★ Basic Motorsport | male | EQ |
| RAM-16T-1 | RAB-16T-1 | ​25,400 mm (1.000") | ​34,93 mm (1.375") | 25,40 mm (1.000") | ​104,78 mm (4.125") | 70,48 mm (2.775") | 53,98 mm (2.125") | 1"-14 | UNJF-3A | ​15° | no preload | Aurora | Alloy steel, heat treated | Alloy steel, heat treated | Alloy steel, heat treated, hard chrome plated | 163° C (325° F) | ★★ Basic Motorsport | male | EQ |
| RAM-16T-3 | RAB-16T-3 | ​25,400 mm (1.000") | ​34,93 mm (1.375") | 25,40 mm (1.000") | ​104,78 mm (4.125") | 70,48 mm (2.775") | 59,54 mm (2.344") | ​1 1/4"-12 | UNJF-3A | ​15° | no preload | Aurora | Alloy steel, heat treated | Alloy steel, heat treated | Alloy steel, heat treated, hard chrome plated | 163° C (325° F) | ★★ Basic Motorsport | male | EQ |
| RXAM-3T | RXAB-3T | 4,826 mm (.190") | 7,92 mm (.312") | 6,35 mm (.250") | 39,67 mm (1.562") | 19,05 mm (.750") | 25,40 mm (1.000") | 1/4"-28 | UNJF-3A | ​10,7° | no preload | Aurora | Alloy steel, heat treated, electroless nickel plated | Alloy steel, heat treated, electroless nickel plated | Alloy steel, heat treated, hard chrome plated | 121° C (250° F) | ★★ Basic Motorsport | male | HD |
| RXAM-4T | RXAB-4T | 6,350 mm (.250") | 9,525 mm (.375") | 7,14 mm (.281") | 47,625 mm (1.875") | 22,23 mm (.875") | 30,15 mm (1.187") | 5/16"-24 | UNJF-3A | ​14,4° | no preload | Aurora | Alloy steel, heat treated, electroless nickel plated | Alloy steel, heat treated, electroless nickel plated | Alloy steel, heat treated, hard chrome plated | 121° C (250° F) | ★★ Basic Motorsport | male | HD |
| RXAM-5T | RXAB-5T | 7,938 mm (.3125") | ​11,10 mm (.437") | 8,74 mm (.344") | 49,23 mm (1.938") | 25,40 mm (1.000") | 30,15 mm (1.187") | ​3/8"-24 | UNJF-3A | ​11° | no preload | Aurora | Alloy steel, heat treated, electroless nickel plated | Alloy steel, heat treated, electroless nickel plated | Alloy steel, heat treated, hard chrome plated | 121° C (250° F) | ★★ Basic Motorsport | male | HD |
| RXAM-6T | RXAB-6T | 9,525 mm (.375") | ​12,70 mm (.500") | 10,31 mm (.406") | 53,975 mm (2.125") | 28,58 mm (1.125") | 33,33 mm (1.312") | ​7/16"-20 | UNJF-3A | 9,7° | no preload | Aurora | Alloy steel, heat treated, electroless nickel plated | Alloy steel, heat treated, electroless nickel plated | Alloy steel, heat treated, hard chrome plated | 121° C (250° F) | ★★ Basic Motorsport | male | HD |
| RXAM-7T | RXAB-7T | ​11,113 mm (.4375") | ​14,27 mm (.562") | 11,10 mm (.437") | 61,93 mm (2.438") | 33,33 mm (1.312") | 36,50 mm (1.437") | 1/2"-20 | UNJF-3A | ​11,2° | no preload | Aurora | Alloy steel, heat treated, electroless nickel plated | Alloy steel, heat treated, electroless nickel plated | Alloy steel, heat treated, hard chrome plated | 121° C (250° F) | ★★ Basic Motorsport | male | HD |
| RXAM-8T | RXAB-8T | ​12,700 mm (.500") | ​15,875 mm (.625") | 12,70 mm (.500") | 66,675 mm (2.625") | 38,10 mm (1.500") | 39,67 mm (1.562") | 5/8"-18 | UNJF-3A | 9,6° | no preload | Aurora | Alloy steel, heat treated, electroless nickel plated | Alloy steel, heat treated, electroless nickel plated | Alloy steel, heat treated, hard chrome plated | 121° C (250° F) | ★★ Basic Motorsport | male | HD |
| RXAM-10T | RXAB-10T | ​15,875 mm (.625") | ​19,05 mm (.750") | 14,27 mm (.562") | 73,025 mm (2.875") | 44,45 mm (1.750") | 42,85 mm (1.687") | ​3/4"-16 | UNJF-3A | ​11,8° | no preload | Aurora | Alloy steel, heat treated, electroless nickel plated | Alloy steel, heat treated, electroless nickel plated | Alloy steel, heat treated, hard chrome plated | 121° C (250° F) | ★★ Basic Motorsport | male | HD |
| RXAM-8T-3 | RXAB-8T-3 | ​12,700 mm (.500") | ​19,05 mm (.750") | 14,27 mm (.562") | 73,025 mm (2.875") | 44,20 mm (1.740") | 42,85 mm (1.687") | ​3/4"-16 | UNJF-3A | ​11,8° | no preload | Aurora | Alloy steel, heat treated | Alloy steel, heat treated | Alloy steel, heat treated, hard chrome plated | 163° C (325° F) | ★★ Basic Motorsport | male | HD |
| RXAM-8T-4 | RXAB-8T-4 | ​12,700 mm (.500") | ​19,05 mm (.750") | 17,45 mm (.687") | 85,725 mm (3.375") | 50,80 mm (2.000") | 47,63 mm (1.875") | ​7/8"-14 | UNJF-3A | 3,3° | no preload | Aurora | Alloy steel, heat treated | Alloy steel, heat treated | Alloy steel, heat treated, hard chrome plated | 163° C (325° F) | ★★ Basic Motorsport | male | HD |
| RXAM-12T-1 | RXAB-12T-1 | ​19,050 mm (.750") | ​22,225 mm (.875") | 17,45 mm (.687") | 85,725 mm (3.375") | 50,80 mm (2.000") | 47,63 mm (1.875") | ​7/8"-14 | UNJF-3A | ​10,3° | no preload | Aurora | Alloy steel, heat treated | Alloy steel, heat treated | Alloy steel, heat treated, hard chrome plated | 163° C (325° F) | ★★ Basic Motorsport | male | HD |
| RXAM-14T-1 | RXAB-14T-1 | ​22,225 mm (.875") | ​22,225 mm (.875") | 19,43 mm (.765") | 88,90 mm (3.500") | 59,05 mm (2.325") | 47,63 mm (1.875") | 1"-14 | UNS-3A | 5,7° | no preload | Aurora | Alloy steel, heat treated | Alloy steel, heat treated | Alloy steel, heat treated, hard chrome plated | 163° C (325° F) | ★★ Basic Motorsport | male | HD |
| XAM-3T | XAB-3T | 4,826 mm (.190") | 7,92 mm (.312") | 6,35 mm (.250") | 39,67 mm (1.562") | 19,05 mm (.750") | 25,40 mm (1.000") | 1/4"-28 | UNF-3A | ​10,7° | no preload | Aurora | Alloy steel, heat treated | Low carbon steel | Alloy steel, heat treated, hard chrome plated | 121° C (250° F) | ★★ Basic Motorsport | male | HD |
| XAM-4T | XAB-4T | 6,350 mm (.250") | 9,525 mm (.375") | 7,14 mm (.281") | 47,625 mm (1.875") | 22,23 mm (.875") | 31,75 mm (1.250") | 5/16"-24 | UNF-3A | ​14,4° | no preload | Aurora | Alloy steel, heat treated | Low carbon steel | Alloy steel, heat treated, hard chrome plated | 121° C (250° F) | ★★ Basic Motorsport | male | HD |
| XAM-5T | XAB-5T | 7,938 mm (.3125") | ​11,10 mm (.437") | 8,74 mm (.344") | 49,23 mm (1.938") | 25,40 mm (1.000") | 31,75 mm (1.250") | ​3/8"-24 | UNF-3A | ​11° | no preload | Aurora | Alloy steel, heat treated | Low carbon steel | Alloy steel, heat treated, hard chrome plated | 121° C (250° F) | ★★ Basic Motorsport | male | HD |
| XAM-6T | XAB-6T | 9,525 mm (.375") | ​12,70 mm (.500") | 10,31 mm (.406") | 53,975 mm (2.125") | 28,58 mm (1.125") | 34,93 mm (1.375") | ​7/16"-20 | UNF-3A | 9,7° | no preload | Aurora | Alloy steel, heat treated | Low carbon steel | Alloy steel, heat treated, hard chrome plated | 121° C (250° F) | ★★ Basic Motorsport | male | HD |
| XAM-7T | XAB-7T | ​11,113 mm (.4375") | ​14,27 mm (.562") | 11,10 mm (.437") | 61,93 mm (2.438") | 33,33 mm (1.312") | 38,10 mm (1.500") | 1/2"-20 | UNF-3A | ​11,2° | no preload | Aurora | Alloy steel, heat treated | Low carbon steel | Alloy steel, heat treated, hard chrome plated | 121° C (250° F) | ★★ Basic Motorsport | male | HD |
| XAM-8T | XAB-8T | ​12,700 mm (.500") | ​15,875 mm (.625") | 12,70 mm (.500") | 66,675 mm (2.625") | 38,10 mm (1.500") | 41,28 mm (1.625") | 5/8"-18 | UNF-3A | 9,6° | no preload | Aurora | Alloy steel, heat treated | Low carbon steel | Alloy steel, heat treated, hard chrome plated | 121° C (250° F) | ★★ Basic Motorsport | male | HD |
| XAM-10T | XAB-10T | ​15,875 mm (.625") | ​19,05 mm (.750") | 14,27 mm (.562") | 73,025 mm (2.875") | 44,45 mm (1.750") | 44,45 mm (1.750") | ​3/4"-16 | UNF-3A | ​11,8° | no preload | Aurora | Alloy steel, heat treated | Low carbon steel | Alloy steel, heat treated, hard chrome plated | 121° C (250° F) | ★★ Basic Motorsport | male | HD |
| XAM-12T | XAB-12T | ​19,050 mm (.750") | ​22,225 mm (.875") | 17,45 mm (.687") | 85,725 mm (3.375") | 50,80 mm (2.000") | 47,63 mm (1.875") | ​7/8"-14 | UNF-3A | ​10,3° | no preload | Aurora | Alloy steel, heat treated | Low carbon steel | Alloy steel, heat treated, hard chrome plated | 121° C (250° F) | ★★ Basic Motorsport | male | HD |
| XAM-6T-1 | | 9,525 mm (.375") | ​12,70 mm (.500") | 10,31 mm (.406") | 61,93 mm (2.438") | 33,33 mm (1.312") | | 1/2"-20 | UNF-3A | 9,7° | no preload | Aurora | Alloy steel, heat treated | Low carbon steel | Alloy steel, heat treated, hard chrome plated | 121° C (250° F) | ★★ Basic Motorsport | male | HD |
| XAM-8T-2 | XAB-8T-2 | ​12,700 mm (.500") | ​19,05 mm (.750") | 14,27 mm (.562") | 73,025 mm (2.875") | 44,45 mm (1.750") | 44,45 mm (1.750") | ​3/4"-16 | UNF-3A | ​11,8° | no preload | Aurora | Alloy steel, heat treated | Low carbon steel | Alloy steel, heat treated, hard chrome plated | 121° C (250° F) | ★★ Basic Motorsport | male | HD |
| XAM-8T-5 | | ​12,700 mm (.500") | ​12,70 mm (.500") | 10,31 mm (.406") | 61,93 mm (2.438") | 33,33 mm (1.312") | | 1/2"-20 | UNF-3A | 9,7° | no preload | Aurora | Alloy steel, heat treated | Low carbon steel | Alloy steel, heat treated, hard chrome plated | 121° C (250° F) | ★★ Basic Motorsport | male | HD |
| XAM-8T-10 | XAB-8T-10 | ​12,700 mm (.500") | ​19,05 mm (.750") | 14,27 mm (.562") | 66,675 mm (2.625") | 44,45 mm (1.750") | 34,93 mm (1.375") | 5/8"-18 | UNF-3A | ​11,8° | no preload | Aurora | Alloy steel, heat treated | Alloy steel, heat treated | Alloy steel, heat treated, hard chrome plated | 121° C (250° F) | ★★ Basic Motorsport | male | HD |
| XAM-8T-11 | XAB-8T-11 | ​12,700 mm (.500") | ​19,05 mm (.750") | 14,27 mm (.562") | 66,675 mm (2.625") | 38,10 mm (1.500") | 41,28 mm (1.625") | 5/8"-18 | UNF-3A | ​11,8° | no preload | Aurora | Alloy steel, heat treated | Low carbon steel | Alloy steel, heat treated, hard chrome plated | 121° C (250° F) | ★★ Basic Motorsport | male | HD |
| GASW 05 | GALSW 05 | 5,000 mm | 8,00 mm | 6,00 mm | 33,00 mm | 18,00 mm | 19,00 mm | M5 x 0,8 | | ​13,4° | no preload | Fluro | 9SMnPb28K low carbon steel | 9SMnPb28K low carbon steel | 100Cr6 alloy steel | | ★ Premium Industrial | male | EQ |
| GASW 06 | GALSW 06 | 6,000 mm | 9,00 mm | 6,75 mm | 36,00 mm | 20,00 mm | 21,00 mm | M6 x 1 | | ​13° | no preload | Fluro | 9SMnPb28K low carbon steel | 9SMnPb28K low carbon steel | 100Cr6 alloy steel | | ★ Premium Industrial | male | EQ |
| GASW 08 | GALSW 08 | 8,000 mm | ​12,00 mm | 9,00 mm | 42,00 mm | 24,00 mm | 25,00 mm | M8 x 1,25 | | ​14,6° | no preload | Fluro | 9SMnPb28K low carbon steel | 9SMnPb28K low carbon steel | 100Cr6 alloy steel | | ★ Premium Industrial | male | EQ |
| GASW 10 | GALSW 10 | ​10,000 mm | ​14,00 mm | 10,50 mm | 48,00 mm | 28,00 mm | 28,00 mm | M​10 x 1,5 | | ​13,9° | no preload | Fluro | 9SMnPb28K low carbon steel | 9SMnPb28K low carbon steel | 100Cr6 alloy steel | | ★ Premium Industrial | male | EQ |
| GASW 12 | GALSW 12 | ​12,000 mm | ​16,00 mm | 12,00 mm | 54,00 mm | 32,00 mm | 29,00 mm | M​12 x 1,75 | | ​13,4° | no preload | Fluro | 9SMnPb28K low carbon steel | 9SMnPb28K low carbon steel | 100Cr6 alloy steel | | ★ Premium Industrial | male | EQ |
| GASW 14 | GALSW 14 | ​14,000 mm | ​19,00 mm | 13,50 mm | 60,00 mm | 36,00 mm | 38,00 mm | M​14 x 2 | | ​16,3° | no preload | Fluro | C22 low carbon steel, heat-treated | 9SMnPb28K low carbon steel | 100Cr6 alloy steel | | ★ Premium Industrial | male | EQ |
| GASW 16 | GALSW 16 | ​16,000 mm | ​21,00 mm | 15,00 mm | 66,00 mm | 42,00 mm | 40,00 mm | M​16 x 2 | | ​15,6° | no preload | Fluro | C22 low carbon steel, heat-treated | 9SMnPb28K low carbon steel | 100Cr6 alloy steel | | ★ Premium Industrial | male | EQ |
| GASW 18 | GALSW 18 | ​18,000 mm | ​23,00 mm | 16,50 mm | 72,00 mm | 46,00 mm | 44,00 mm | M​18 x 1,5 | | ​15,1° | no preload | Fluro | C22 low carbon steel, heat-treated | 9SMnPb28K low carbon steel | 100Cr6 alloy steel | | ★ Premium Industrial | male | EQ |
| GASW 20 | GALSW 20 | ​20,000 mm | ​25,00 mm | 18,00 mm | 78,00 mm | 50,00 mm | 47,00 mm | M​20 x 1,5 | | ​14,7° | no preload | Fluro | C22 low carbon steel, heat-treated | 9SMnPb28K low carbon steel | 100Cr6 alloy steel | | ★ Premium Industrial | male | EQ |
| GASW 22 | GALSW 22 | ​22,000 mm | ​28,00 mm | 20,00 mm | 84,00 mm | 54,00 mm | 51,00 mm | M​22 x 1,5 | | ​15,6° | no preload | Fluro | C22 low carbon steel, heat-treated | 9SMnPb28K low carbon steel | 100Cr6 alloy steel | | ★ Premium Industrial | male | EQ |
| GASW 25 | GALSW 25 | ​25,000 mm | ​31,00 mm | 22,00 mm | 94,00 mm | 60,00 mm | 57,00 mm | M​24 x 2 | | ​15,4° | no preload | Fluro | C22 low carbon steel, heat-treated | 9SMnPb28K low carbon steel | 100Cr6 alloy steel | | ★ Premium Industrial | male | EQ |
| GASW 30 | GALSW 30 | ​30,000 mm | ​37,00 mm | 25,00 mm | ​110,00 mm | 70,00 mm | 70,00 mm | M​30 x 2 | | ​17,3° | no preload | Fluro | C22 low carbon steel, heat-treated | 9SMnPb28K low carbon steel | 100Cr6 alloy steel | | ★ Premium Industrial | male | EQ |
| GASW 35 | GALSW 35 | ​35,000 mm | ​43,00 mm | 28,00 mm | ​125,00 mm | 80,00 mm | 73,00 mm | M​36 x 2 | | ​19,5° | no preload | Fluro | C22 low carbon steel, heat-treated | 9SMnPb28K low carbon steel | 100Cr6 alloy steel | | ★ Premium Industrial | male | EQ |
| GASW 40 | GALSW 40 | ​40,000 mm | ​49,00 mm | 35,00 mm | ​142,00 mm | 90,00 mm | 78,00 mm | M​42 x 2 | | ​15,9° | no preload | Fluro | C22 low carbon steel, heat-treated | 9SMnPb28K low carbon steel | 100Cr6 alloy steel | | ★ Premium Industrial | male | EQ |
| GASW 50 | GALSW 50 | ​50,000 mm | ​60,00 mm | 45,00 mm | ​185,00 mm | ​116,00 mm | ​105,00 mm | M​48 x 2 | | ​13,7° | no preload | Fluro | C22 low carbon steel, heat-treated | 9SMnPb28K low carbon steel | 100Cr6 alloy steel | | ★ Premium Industrial | male | EQ |
| GAXSW 06 | GALXSW 06 | 6,000 mm | 9,00 mm | 6,75 mm | 36,00 mm | 20,00 mm | 21,00 mm | M6 x 1 | | ​13° | no preload | Fluro | 42CrMo4 alloy steel, heat treated | 9SMnPb28K low carbon steel | 100Cr6 alloy steel | | ★★ Basic Motorsport | male | EQ |
| GAXSW 08 | GALXSW 08 | 8,000 mm | ​12,00 mm | 9,00 mm | 42,00 mm | 24,00 mm | 25,00 mm | M8 x 1,25 | | ​14,6° | no preload | Fluro | 42CrMo4 alloy steel, heat treated | 9SMnPb28K low carbon steel | 100Cr6 alloy steel | | ★★ Basic Motorsport | male | EQ |
| GAXSW 10 | GALXSW 10 | ​10,000 mm | ​14,00 mm | 10,50 mm | 48,00 mm | 28,00 mm | 28,00 mm | M​10 x 1,5 | | ​13,9° | no preload | Fluro | 42CrMo4 alloy steel, heat treated | 9SMnPb28K low carbon steel | 100Cr6 alloy steel | | ★★ Basic Motorsport | male | EQ |
| GAXSW 12 | GALXSW 12 | ​12,000 mm | ​16,00 mm | 12,00 mm | 54,00 mm | 32,00 mm | 29,00 mm | M​12 x 1,75 | | ​13,4° | no preload | Fluro | 42CrMo4 alloy steel, heat treated | 9SMnPb28K low carbon steel | 100Cr6 alloy steel | | ★★ Basic Motorsport | male | EQ |
| GAXSW 14 | GALXSW 14 | ​14,000 mm | ​19,00 mm | 13,50 mm | 60,00 mm | 36,00 mm | 38,00 mm | M​14 x 2 | | ​16,3° | no preload | Fluro | 42CrMo4 alloy steel, heat treated | 9SMnPb28K low carbon steel | 100Cr6 alloy steel | | ★★ Basic Motorsport | male | EQ |
| GAXSW 16 | GALXSW 16 | ​16,000 mm | ​21,00 mm | 15,00 mm | 66,00 mm | 42,00 mm | 40,00 mm | M​16 x 2 | | ​15,6° | no preload | Fluro | 42CrMo4 alloy steel, heat treated | 9SMnPb28K low carbon steel | 100Cr6 alloy steel | | ★★ Basic Motorsport | male | EQ |
| GAXSW 18 | GALXSW 18 | ​18,000 mm | ​23,00 mm | 16,50 mm | 72,00 mm | 46,00 mm | 44,00 mm | M​18 x 1,5 | | ​15,1° | no preload | Fluro | 42CrMo4 alloy steel, heat treated | 9SMnPb28K low carbon steel | 100Cr6 alloy steel | | ★★ Basic Motorsport | male | EQ |
| GAXSW 20 | GALXSW 20 | ​20,000 mm | ​25,00 mm | 18,00 mm | 78,00 mm | 50,00 mm | 47,00 mm | M​20 x 1,5 | | ​14,7° | no preload | Fluro | 42CrMo4 alloy steel, heat treated | 9SMnPb28K low carbon steel | 100Cr6 alloy steel | | ★★ Basic Motorsport | male | EQ |
| GAXSW 22 | GALXSW 22 | ​22,000 mm | ​28,00 mm | 20,00 mm | 84,00 mm | 54,00 mm | 51,00 mm | M​22 x 1,5 | | ​15,6° | no preload | Fluro | 42CrMo4 alloy steel, heat treated | 9SMnPb28K low carbon steel | 100Cr6 alloy steel | | ★★ Basic Motorsport | male | EQ |
| GAXSW 25 | GALXSW 25 | ​25,000 mm | ​31,00 mm | 22,00 mm | 94,00 mm | 60,00 mm | 57,00 mm | M​24 x 2 | | ​15,4° | no preload | Fluro | 42CrMo4 alloy steel, heat treated | 9SMnPb28K low carbon steel | 100Cr6 alloy steel | | ★★ Basic Motorsport | male | EQ |
| GAXSW 30 | GALXSW 30 | ​30,000 mm | ​37,00 mm | 25,00 mm | ​110,00 mm | 70,00 mm | 70,00 mm | M​30 x 2 | | ​17,3° | no preload | Fluro | 42CrMo4 alloy steel, heat treated | 9SMnPb28K low carbon steel | 100Cr6 alloy steel | | ★★ Basic Motorsport | male | EQ |
| GAXSW 35 | GALXSW 35 | ​35,000 mm | ​43,00 mm | 28,00 mm | ​125,00 mm | 80,00 mm | 73,00 mm | M​36 x 2 | | ​19,5° | no preload | Fluro | 42CrMo4 alloy steel, heat treated | 9SMnPb28K low carbon steel | 100Cr6 alloy steel | | ★★ Basic Motorsport | male | EQ |
| GAXSW 6 MS | GALXSW 6 MS | 6,000 mm | 9,00 mm | 6,75 mm | 36,00 mm | 20,00 mm | 21,00 mm | M6 x 1 | | ​13° | 4-10 N/dm | Fluro | 42CrMo4 alloy steel, heat treated, bright nickel plated | Aisi 316Ti stainless steel | 100Cr6 alloy steel, hard chrome plated | | ★★★ Performance Motorsport | male | EQ |
| GAXSW 8 MS | GALXSW 8 MS | 8,000 mm | ​12,00 mm | 9,00 mm | 42,00 mm | 24,00 mm | 25,00 mm | M8 x 1,25 | | ​14,6° | 4-12 N/dm | Fluro | 42CrMo4 alloy steel, heat treated, bright nickel plated | Aisi 316Ti stainless steel | 100Cr6 alloy steel, hard chrome plated | | ★★★ Performance Motorsport | male | EQ |
| GAXSW 8x1 MS | GALXSW 8x1 MS | 8,000 mm | ​12,00 mm | 9,00 mm | 42,00 mm | 24,00 mm | 25,00 mm | M8 x 1 | | ​14,6° | 4-12 N/dm | Fluro | 42CrMo4 alloy steel, heat treated, bright nickel plated | Aisi 316Ti stainless steel | 100Cr6 alloy steel, hard chrome plated | | ★★★ Performance Motorsport | male | EQ |
| GAXSW 10 MS | GALXSW 10 MS | ​10,000 mm | ​14,00 mm | 10,50 mm | 48,00 mm | 28,00 mm | 28,00 mm | M​10 x 1,5 | | ​13,9° | 6-16 N/dm | Fluro | 42CrMo4 alloy steel, heat treated, bright nickel plated | Aisi 316Ti stainless steel | 100Cr6 alloy steel, hard chrome plated | | ★★★ Performance Motorsport | male | EQ |
| GAXSW 10x1,25 MS | GALXSW 10x1,25 MS | ​10,000 mm | ​14,00 mm | 10,50 mm | 48,00 mm | 28,00 mm | 28,00 mm | M​10 x 1,25 | | ​13,9° | 6-16 N/dm | Fluro | 42CrMo4 alloy steel, heat treated, bright nickel plated | Aisi 316Ti stainless steel | 100Cr6 alloy steel, hard chrome plated | | ★★★ Performance Motorsport | male | EQ |
| GAXSW 10x1 MS | GALXSW 10x1 MS | ​10,000 mm | ​14,00 mm | 10,50 mm | 48,00 mm | 28,00 mm | 28,00 mm | M​10 x 1 | | ​13,9° | 6-16 N/dm | Fluro | 42CrMo4 alloy steel, heat treated, bright nickel plated | Aisi 316Ti stainless steel | 100Cr6 alloy steel, hard chrome plated | | ★★★ Performance Motorsport | male | EQ |
| GAXSW 12 MS | GALXSW 12 MS | ​12,000 mm | ​16,00 mm | 12,00 mm | 54,00 mm | 32,00 mm | 32,00 mm | M​12 x 1,75 | | ​13,4° | 10-22 N/dm | Fluro | 42CrMo4 alloy steel, heat treated, bright nickel plated | Aisi 316Ti stainless steel | 100Cr6 alloy steel, hard chrome plated | | ★★★ Performance Motorsport | male | EQ |
| GAXSW 12x1,5 MS | GALXSW 12x1,5 MS | ​12,000 mm | ​16,00 mm | 12,00 mm | 54,00 mm | 32,00 mm | 32,00 mm | M​12 x 1,5 | | ​13,4° | 10-22 N/dm | Fluro | 42CrMo4 alloy steel, heat treated, bright nickel plated | Aisi 316Ti stainless steel | 100Cr6 alloy steel, hard chrome plated | | ★★★ Performance Motorsport | male | EQ |
| GAXSW 12x1,25 MS | GALXSW 12x1,25 MS | ​12,000 mm | ​16,00 mm | 12,00 mm | 54,00 mm | 32,00 mm | 32,00 mm | M​12 x 1,25 | | ​13,4° | 10-22 N/dm | Fluro | 42CrMo4 alloy steel, heat treated, bright nickel plated | Aisi 316Ti stainless steel | 100Cr6 alloy steel, hard chrome plated | | ★★★ Performance Motorsport | male | EQ |
| GAXSW 14 MS | GALXSW 14 MS | ​14,000 mm | ​19,00 mm | 13,50 mm | 60,00 mm | 36,00 mm | 38,00 mm | M​14 x 2 | | ​16,3° | 12-24 N/dm | Fluro | 42CrMo4 alloy steel, heat treated, bright nickel plated | Aisi 316Ti stainless steel | 100Cr6 alloy steel, hard chrome plated | | ★★★ Performance Motorsport | male | EQ |
| GAXSW 14x1,5 MS | GALXSW 14x1,5 MS | ​14,000 mm | ​19,00 mm | 13,50 mm | 60,00 mm | 36,00 mm | 38,00 mm | M​14 x 1,5 | | ​16,3° | 12-24 N/dm | Fluro | 42CrMo4 alloy steel, heat treated, bright nickel plated | Aisi 316Ti stainless steel | 100Cr6 alloy steel, hard chrome plated | | ★★★ Performance Motorsport | male | EQ |
| GAXSW 16 MS | GALXSW 16 MS | ​16,000 mm | ​21,00 mm | 15,00 mm | 66,00 mm | 42,00 mm | 40,00 mm | M​16 x 2 | | ​15,6° | 14-28 N/dm | Fluro | 42CrMo4 alloy steel, heat treated, bright nickel plated | Aisi 316Ti stainless steel | 100Cr6 alloy steel, hard chrome plated | | ★★★ Performance Motorsport | male | EQ |
| GAXSW 16x1,5 MS | GALXSW 16x1,5 MS | ​16,000 mm | ​21,00 mm | 15,00 mm | 66,00 mm | 42,00 mm | 40,00 mm | M​16 x 1,5 | | ​15,6° | 14-28 N/dm | Fluro | 42CrMo4 alloy steel, heat treated, bright nickel plated | Aisi 316Ti stainless steel | 100Cr6 alloy steel, hard chrome plated | | ★★★ Performance Motorsport | male | EQ |
| GAXSW 18 MS | GALXSW 18 MS | ​18,000 mm | ​23,00 mm | 16,50 mm | 72,00 mm | 46,00 mm | 44,00 mm | M​18 x 1,5 | | ​15,1° | 18-32 N/dm | Fluro | 42CrMo4 alloy steel, heat treated, bright nickel plated | Aisi 316Ti stainless steel | 100Cr6 alloy steel, hard chrome plated | | ★★★ Performance Motorsport | male | EQ |
| GAXSW 20 MS | GALXSW 20 MS | ​20,000 mm | ​25,00 mm | 18,00 mm | 78,00 mm | 50,00 mm | 47,00 mm | M​20 x 1,5 | | ​14,7° | 20-34 N/dm | Fluro | 42CrMo4 alloy steel, heat treated, bright nickel plated | Aisi 316Ti stainless steel | 100Cr6 alloy steel, hard chrome plated | | ★★★ Performance Motorsport | male | EQ |
| GAXSW 25 MS | GALXSW 25 MS | ​25,000 mm | ​31,00 mm | 22,00 mm | 94,00 mm | 60,00 mm | 58,00 mm | M​24 x 2 | | ​15,4° | 34-52 N/dm | Fluro | 42CrMo4 alloy steel, heat treated, bright nickel plated | Aisi 316Ti stainless steel | 100Cr6 alloy steel, hard chrome plated | | ★★★ Performance Motorsport | male | EQ |
| GAXSW 10.8 MS | GALXSW 10.8 MS | 8,000 mm | ​14,00 mm | 10,50 mm | 36,00 mm | 28,00 mm | 28,00 mm | M​10 x 1,5 | | ​13,9° | 6-16 N/dm | Fluro | 42CrMo4 alloy steel, heat treated, bright nickel plated | Aisi 316Ti stainless steel | 100Cr6 alloy steel, hard chrome plated | | ★★★ Performance Motorsport | male | HD |
| GAXSW 12.10 MS | GALXSW 12.10 MS | ​10,000 mm | ​16,00 mm | 12,00 mm | 42,00 mm | 32,00 mm | 32,00 mm | M​12 x 1,75 | | ​13,4° | 10-22 N/dm | Fluro | 42CrMo4 alloy steel, heat treated, bright nickel plated | Aisi 316Ti stainless steel | 100Cr6 alloy steel, hard chrome plated | | ★★★ Performance Motorsport | male | HD |
| GAXSW 14.12 MS | GALXSW 14.12 MS | ​12,000 mm | ​19,00 mm | 13,50 mm | 42,00 mm | 36,00 mm | 38,00 mm | M​14 x 2 | | ​16,3° | 12-24 N/dm | Fluro | 42CrMo4 alloy steel, heat treated, bright nickel plated | Aisi 316Ti stainless steel | 100Cr6 alloy steel, hard chrome plated | | ★★★ Performance Motorsport | male | HD |
| GAXSW 16.14 MS | GALXSW 16.14 MS | ​14,000 mm | ​21,00 mm | 15,00 mm | 48,00 mm | 42,00 mm | 40,00 mm | M​16 x 2 | | ​15,6° | 14-28 N/dm | Fluro | 42CrMo4 alloy steel, heat treated, bright nickel plated | Aisi 316Ti stainless steel | 100Cr6 alloy steel, hard chrome plated | | ★★★ Performance Motorsport | male | HD |
| GAXSW 18.16 MS | GALXSW 18.16 MS | ​16,000 mm | ​23,00 mm | 16,50 mm | 48,00 mm | 46,00 mm | 44,00 mm | M​18 x 1,5 | | ​15,1° | 18-32 N/dm | Fluro | 42CrMo4 alloy steel, heat treated, bright nickel plated | Aisi 316Ti stainless steel | 100Cr6 alloy steel, hard chrome plated | | ★★★ Performance Motorsport | male | HD |
| RM 6 MTE | RML 6 MTE | 6,000 mm | 9,00 mm | 6,75 mm | 36,00 mm | 20,00 mm | 22,00 mm | M6 x 1 | | ​13° | 4-10 N/dm | Rodobal | 42CrMo4 alloy steel, heat treated, bright nickel plated | Aisi 316Ti stainless steel | 100Cr6 alloy steel, hard chrome plated | | ★★★ Performance Motorsport | male | EQ |
| RM 8 MTE | RML 8 MTE | 8,000 mm | ​12,00 mm | 9,00 mm | 42,00 mm | 24,00 mm | 25,00 mm | M8 x 1,25 | | ​14,6° | 4-12 N/dm | Rodobal | 42CrMo4 alloy steel, heat treated, bright nickel plated | Aisi 316Ti stainless steel | 100Cr6 alloy steel, hard chrome plated | | ★★★ Performance Motorsport | male | EQ |
| RM 8 MTEx1 | RML 8 MTEx1 | 8,000 mm | ​12,00 mm | 9,00 mm | 42,00 mm | 24,00 mm | 25,00 mm | M8 x 1 | | ​14,6° | 4-12 N/dm | Rodobal | 42CrMo4 alloy steel, heat treated, bright nickel plated | Aisi 316Ti stainless steel | 100Cr6 alloy steel, hard chrome plated | | ★★★ Performance Motorsport | male | EQ |
| RM 10 MTE | RML 10 MTE | ​10,000 mm | ​14,00 mm | 10,50 mm | 48,00 mm | 28,00 mm | 29,00 mm | M​10 x 1,5 | | ​13,9° | 6-16 N/dm | Rodobal | 42CrMo4 alloy steel, heat treated, bright nickel plated | Aisi 316Ti stainless steel | 100Cr6 alloy steel, hard chrome plated | | ★★★ Performance Motorsport | male | EQ |
| RM 10 MTEx1,25 | RML 10 MTEx1,25 | ​10,000 mm | ​14,00 mm | 10,50 mm | 48,00 mm | 28,00 mm | 29,00 mm | M​10 x 1,25 | | ​13,9° | 6-16 N/dm | Rodobal | 42CrMo4 alloy steel, heat treated, bright nickel plated | Aisi 316Ti stainless steel | 100Cr6 alloy steel, hard chrome plated | | ★★★ Performance Motorsport | male | EQ |
| RM 10.8 MTEx1 | RML 10.8 MTEx1 | 8,000 mm | ​14,00 mm | 10,50 mm | 48,00 mm | 28,00 mm | 29,00 mm | M​10 x 1 | | ​13,9° | 6-16 N/dm | Rodobal | 42CrMo4 alloy steel, heat treated, bright nickel plated | Aisi 316Ti stainless steel | 100Cr6 alloy steel, hard chrome plated | | ★★★ Performance Motorsport | male | HD |
| RM 12 MTE | RML 12 MTE | ​12,000 mm | ​16,00 mm | 12,00 mm | 54,00 mm | 32,00 mm | 33,00 mm | M​12 x 1,75 | | ​13,4° | 10-22 N/dm | Rodobal | 42CrMo4 alloy steel, heat treated, bright nickel plated | Aisi 316Ti stainless steel | 100Cr6 alloy steel, hard chrome plated | | ★★★ Performance Motorsport | male | EQ |
| RM 12 MTEx1,5 | RML 12 MTEx1,5 | ​12,000 mm | ​16,00 mm | 12,00 mm | 54,00 mm | 32,00 mm | 33,00 mm | M​12 x 1,5 | | ​13,4° | 10-22 N/dm | Rodobal | 42CrMo4 alloy steel, heat treated, bright nickel plated | Aisi 316Ti stainless steel | 100Cr6 alloy steel, hard chrome plated | | ★★★ Performance Motorsport | male | EQ |
| RM 12 MTEx1,25 | RML 12 MTEx1,25 | ​12,000 mm | ​16,00 mm | 12,00 mm | 54,00 mm | 32,00 mm | 33,00 mm | M​12 x 1,25 | | ​13,4° | 10-22 N/dm | Rodobal | 42CrMo4 alloy steel, heat treated, bright nickel plated | Aisi 316Ti stainless steel | 100Cr6 alloy steel, hard chrome plated | | ★★★ Performance Motorsport | male | EQ |
| RM 12.10 MTEx1,5 | RML 12.10 MTEx1,5 | ​10,000 mm | ​16,00 mm | 12,00 mm | 54,00 mm | 32,00 mm | 33,00 mm | M​12 x 1,5 | | ​13,4° | 10-22 N/dm | Rodobal | 42CrMo4 alloy steel, heat treated, bright nickel plated | Aisi 316Ti stainless steel | 100Cr6 alloy steel, hard chrome plated | | ★★★ Performance Motorsport | male | HD |
| RM 14 MTEx1,5 | RML 14 MTEx1,5 | ​14,000 mm | ​19,00 mm | 13,50 mm | 60,00 mm | 36,00 mm | 38,00 mm | M​14 x 1,5 | | ​16,3° | 12-24 N/dm | Rodobal | 42CrMo4 alloy steel, heat treated, bright nickel plated | Aisi 316Ti stainless steel | 100Cr6 alloy steel, hard chrome plated | | ★★★ Performance Motorsport | male | EQ |
| RM 14 MTEx2 | RML 14 MTEx2 | ​14,000 mm | ​19,00 mm | 13,50 mm | 60,00 mm | 36,00 mm | 38,00 mm | M​14 x 2 | | ​16,3° | 12-24 N/dm | Rodobal | 42CrMo4 alloy steel, heat treated, bright nickel plated | Aisi 316Ti stainless steel | 100Cr6 alloy steel, hard chrome plated | | ★★★ Performance Motorsport | male | EQ |
| RM 14.12 MTEx1,5 | RML 14.12 MTEx1,5 | ​12,000 mm | ​19,00 mm | 13,50 mm | 60,00 mm | 36,00 mm | 38,00 mm | M​14 x 1,5 | | ​16,3° | 12-24 N/dm | Rodobal | 42CrMo4 alloy steel, heat treated, bright nickel plated | Aisi 316Ti stainless steel | 100Cr6 alloy steel, hard chrome plated | | ★★★ Performance Motorsport | male | HD |
| RM 16 MTEx1,5 | RML 16 MTEx1,5 | ​16,000 mm | ​21,00 mm | 15,00 mm | 66,00 mm | 42,00 mm | 40,00 mm | M​16 x 1,5 | | ​15,6° | 14-28 N/dm | Rodobal | 42CrMo4 alloy steel, heat treated, bright nickel plated | Aisi 316Ti stainless steel | 100Cr6 alloy steel, hard chrome plated | | ★★★ Performance Motorsport | male | EQ |
| RM 16 MTEx2 | RML 16 MTEx2 | ​16,000 mm | ​21,00 mm | 15,00 mm | 66,00 mm | 42,00 mm | 40,00 mm | M​16 x 2 | | ​15,6° | 14-28 N/dm | Rodobal | 42CrMo4 alloy steel, heat treated, bright nickel plated | Aisi 316Ti stainless steel | 100Cr6 alloy steel, hard chrome plated | | ★★★ Performance Motorsport | male | EQ |
| RM 16.14 MTEx1,5 | RML 16.14 MTEx1,5 | ​14,000 mm | ​21,00 mm | 15,00 mm | 66,00 mm | 42,00 mm | 40,00 mm | M​16 x 1,5 | | ​15,6° | 14-28 N/dm | Rodobal | 42CrMo4 alloy steel, heat treated, bright nickel plated | Aisi 316Ti stainless steel | 100Cr6 alloy steel, hard chrome plated | | ★★★ Performance Motorsport | male | HD |
| RM 18 MTE | RML 18 MTE | ​18,000 mm | ​23,00 mm | 16,50 mm | 72,00 mm | 46,00 mm | 44,00 mm | M​18 x 1,5 | | ​15,1° | 18-32 N/dm | Rodobal | 42CrMo4 alloy steel, heat treated, bright nickel plated | Aisi 316Ti stainless steel | 100Cr6 alloy steel, hard chrome plated | | ★★★ Performance Motorsport | male | EQ |
| RM 18.16 MTE | RML 18.16 MTE | ​16,000 mm | ​23,00 mm | 16,50 mm | 72,00 mm | 46,00 mm | 44,00 mm | M​18 x 1,5 | | ​15,1° | 18-32 N/dm | Rodobal | 42CrMo4 alloy steel, heat treated, bright nickel plated | Aisi 316Ti stainless steel | 100Cr6 alloy steel, hard chrome plated | | ★★★ Performance Motorsport | male | HD |
| RM 20 MTE | RML 20 MTE | ​20,000 mm | ​25,00 mm | 18,00 mm | 78,00 mm | 50,00 mm | 47,00 mm | M​20 x 1,5 | | ​14,7° | 20-34 N/dm | Rodobal | 42CrMo4 alloy steel, heat treated, bright nickel plated | Aisi 316Ti stainless steel | 100Cr6 alloy steel, hard chrome plated | | ★★★ Performance Motorsport | male | EQ |
| RM 25 MTE | RML 25 MTE | ​25,000 mm | ​31,00 mm | 22,00 mm | 94,00 mm | 60,00 mm | 58,00 mm | M​24 x 2 | | ​15,4° | 34-52 N/dm | Rodobal | 42CrMo4 alloy steel, heat treated, bright nickel plated | Aisi 316Ti stainless steel | 100Cr6 alloy steel, hard chrome plated | | ★★★ Performance Motorsport | male | EQ |
| RM 5 SE | RML 5 SE | 5,000 mm | 8,00 mm | 6,00 mm | 33,00 mm | 18,00 mm | 19,00 mm | M5 x 0,8 | | ​13,4° | no preload | Rodobal | 9SMnPb28K low carbon steel | C22 low carbon steel | 100Cr6 alloy steel | | ★ Premium Industrial | male | EQ |
| RM 6 SE | RML 6 SE | 6,000 mm | 9,00 mm | 6,75 mm | 36,00 mm | 20,00 mm | 21,00 mm | M6 x 1 | | ​13° | no preload | Rodobal | 9SMnPb28K low carbon steel | C22 low carbon steel | 100Cr6 alloy steel | | ★ Premium Industrial | male | EQ |
| RM 8 SE | RML 8 SE | 8,000 mm | ​12,00 mm | 9,00 mm | 42,00 mm | 24,00 mm | 25,00 mm | M8 x 1,25 | | ​14,6° | no preload | Rodobal | 9SMnPb28K low carbon steel | C22 low carbon steel | 100Cr6 alloy steel | | ★ Premium Industrial | male | EQ |
| RM 10 SE | RML 10 SE | ​10,000 mm | ​14,00 mm | 10,50 mm | 48,00 mm | 28,00 mm | 28,00 mm | M​10 x 1,5 | | ​13,9° | no preload | Rodobal | 9SMnPb28K low carbon steel | C22 low carbon steel | 100Cr6 alloy steel | | ★ Premium Industrial | male | EQ |
| RM 12 SE | RML 12 SE | ​12,000 mm | ​16,00 mm | 12,00 mm | 54,00 mm | 32,00 mm | 29,00 mm | M​12 x 1,75 | | ​13,4° | no preload | Rodobal | 9SMnPb28K low carbon steel | C22 low carbon steel | 100Cr6 alloy steel | | ★ Premium Industrial | male | EQ |
| RM 14 SE | RML 14 SE | ​14,000 mm | ​19,00 mm | 13,50 mm | 60,00 mm | 36,00 mm | 38,00 mm | M​14 x 2 | | ​16,3° | no preload | Rodobal | C22 low carbon steel, heat-treated | C22 low carbon steel | 100Cr6 alloy steel | | ★ Premium Industrial | male | EQ |
| RM 16 SE | RML 16 SE | ​16,000 mm | ​21,00 mm | 15,00 mm | 66,00 mm | 42,00 mm | 40,00 mm | M​16 x 2 | | ​15,6° | no preload | Rodobal | C22 low carbon steel, heat-treated | C22 low carbon steel | 100Cr6 alloy steel | | ★ Premium Industrial | male | EQ |
| RM 18 SE | RML 18 SE | ​18,000 mm | ​23,00 mm | 16,50 mm | 72,00 mm | 46,00 mm | 44,00 mm | M​18 x 1,5 | | ​15,1° | no preload | Rodobal | C22 low carbon steel, heat-treated | C22 low carbon steel | 100Cr6 alloy steel | | ★ Premium Industrial | male | EQ |
| RM 20 SE | RML 20 SE | ​20,000 mm | ​25,00 mm | 18,00 mm | 78,00 mm | 50,00 mm | 47,00 mm | M​20 x 1,5 | | ​14,7° | no preload | Rodobal | C22 low carbon steel, heat-treated | C22 low carbon steel | 100Cr6 alloy steel | | ★ Premium Industrial | male | EQ |
| RM 22 SE | RML 22 SE | ​22,000 mm | ​28,00 mm | 20,00 mm | 84,00 mm | 54,00 mm | 51,00 mm | M​22 x 1,5 | | ​15,6° | no preload | Rodobal | C22 low carbon steel, heat-treated | C22 low carbon steel | 100Cr6 alloy steel | | ★ Premium Industrial | male | EQ |
| RM 25 SE | RML 25 SE | ​25,000 mm | ​31,00 mm | 22,00 mm | 94,00 mm | 60,00 mm | 57,00 mm | M​24 x 2 | | ​15,4° | no preload | Rodobal | C22 low carbon steel, heat-treated | C22 low carbon steel | 100Cr6 alloy steel | | ★ Premium Industrial | male | EQ |
| RM 30 SE | RML 30 SE | ​30,000 mm | ​37,00 mm | 25,00 mm | ​110,00 mm | 70,00 mm | 70,00 mm | M​30 x 2 | | ​17,3° | no preload | Rodobal | C22 low carbon steel, heat-treated | C22 low carbon steel | 100Cr6 alloy steel | | ★ Premium Industrial | male | EQ |
| RM 35 SE | RML 35 SE | ​35,000 mm | ​43,00 mm | 28,00 mm | ​125,00 mm | 80,00 mm | 73,00 mm | M​36 x 2 | | ​19,5° | no preload | Rodobal | C22 low carbon steel, heat-treated | C22 low carbon steel | 100Cr6 alloy steel | | ★ Premium Industrial | male | EQ |
| RM 40 SE | RML 40 SE | ​40,000 mm | ​49,00 mm | 35,00 mm | ​142,00 mm | 90,00 mm | 78,00 mm | M​42 x 2 | | ​15,9° | no preload | Rodobal | C22 low carbon steel, heat-treated | C22 low carbon steel | 100Cr6 alloy steel | | ★ Premium Industrial | male | EQ |
| RM 6 XE | RML 6 XE | 6,000 mm | 9,00 mm | 6,75 mm | 36,00 mm | 20,00 mm | 21,00 mm | M6 x 1 | | ​13° | no preload | Rodobal | 42CrMo4 alloy steel, heat treated | C22 low carbon steel | 100Cr6 alloy steel | | ★★ Basic Motorsport | male | EQ |
| RM 8 XE | RML 8 XE | 8,000 mm | ​12,00 mm | 9,00 mm | 42,00 mm | 24,00 mm | 25,00 mm | M8 x 1,25 | | ​14,6° | no preload | Rodobal | 42CrMo4 alloy steel, heat treated | C22 low carbon steel | 100Cr6 alloy steel | | ★★ Basic Motorsport | male | EQ |
| RM 10 XE | RML 10 XE | ​10,000 mm | ​14,00 mm | 10,50 mm | 48,00 mm | 28,00 mm | 28,00 mm | M​10 x 1,5 | | ​13,9° | no preload | Rodobal | 42CrMo4 alloy steel, heat treated | C22 low carbon steel | 100Cr6 alloy steel | | ★★ Basic Motorsport | male | EQ |
| RM 12 XE | RML 12 XE | ​12,000 mm | ​16,00 mm | 12,00 mm | 54,00 mm | 32,00 mm | 29,00 mm | M​12 x 1,75 | | ​13,4° | no preload | Rodobal | 42CrMo4 alloy steel, heat treated | C22 low carbon steel | 100Cr6 alloy steel | | ★★ Basic Motorsport | male | EQ |
| RM 14 XE | RML 14 XE | ​14,000 mm | ​19,00 mm | 13,50 mm | 60,00 mm | 36,00 mm | 38,00 mm | M​14 x 2 | | ​16,3° | no preload | Rodobal | 42CrMo4 alloy steel, heat treated | C22 low carbon steel | 100Cr6 alloy steel | | ★★ Basic Motorsport | male | EQ |
| RM 16 XE | RML 16 XE | ​16,000 mm | ​21,00 mm | 15,00 mm | 66,00 mm | 42,00 mm | 40,00 mm | M​16 x 2 | | ​15,6° | no preload | Rodobal | 42CrMo4 alloy steel, heat treated | C22 low carbon steel | 100Cr6 alloy steel | | ★★ Basic Motorsport | male | EQ |
| RM 18 XE | RML 18 XE | ​18,000 mm | ​23,00 mm | 16,50 mm | 72,00 mm | 46,00 mm | 44,00 mm | M​18 x 1,5 | | ​15,1° | no preload | Rodobal | 42CrMo4 alloy steel, heat treated | C22 low carbon steel | 100Cr6 alloy steel | | ★★ Basic Motorsport | male | EQ |
| RM 20 XE | RML 20 XE | ​20,000 mm | ​25,00 mm | 18,00 mm | 78,00 mm | 50,00 mm | 47,00 mm | M​20 x 1,5 | | ​14,7° | no preload | Rodobal | 42CrMo4 alloy steel, heat treated | C22 low carbon steel | 100Cr6 alloy steel | | ★★ Basic Motorsport | male | EQ |
| RM 22 XE | RML 22 XE | ​22,000 mm | ​28,00 mm | 20,00 mm | 84,00 mm | 54,00 mm | 51,00 mm | M​22 x 1,5 | | ​15,6° | no preload | Rodobal | 42CrMo4 alloy steel, heat treated | C22 low carbon steel | 100Cr6 alloy steel | | ★★ Basic Motorsport | male | EQ |
| RM 25 XE | RML 25 XE | ​25,000 mm | ​31,00 mm | 22,00 mm | 94,00 mm | 60,00 mm | 57,00 mm | M​24 x 2 | | ​15,4° | no preload | Rodobal | 42CrMo4 alloy steel, heat treated | C22 low carbon steel | 100Cr6 alloy steel | | ★★ Basic Motorsport | male | EQ |
| RM 30 XE | RML 30 XE | ​30,000 mm | ​37,00 mm | 25,00 mm | ​110,00 mm | 70,00 mm | 70,00 mm | M​30 x 2 | | ​17,3° | no preload | Rodobal | 42CrMo4 alloy steel, heat treated | C22 low carbon steel | 100Cr6 alloy steel | | ★★ Basic Motorsport | male | EQ |
| RM 35 XE | RML 35 XE | ​35,000 mm | ​43,00 mm | 28,00 mm | ​125,00 mm | 80,00 mm | 73,00 mm | M​36 x 2 | | ​19,5° | no preload | Rodobal | 42CrMo4 alloy steel, heat treated | C22 low carbon steel | 100Cr6 alloy steel | | ★★ Basic Motorsport | male | EQ |
| AW-3T | AG-3T | 4,826 mm (.190") | 7,92 mm (.312") | 6,35 mm (.250") | 31,75 mm (1.250") | 15,88 mm (.625") | 14,27 mm (.562") | #10-32 | UNF-3B | ​10,7° | no preload | Aurora | Alloy steel, heat treated | Low carbon steel | Alloy steel, heat treated, hard chrome plated | 121° C (250° F) | ★★ Basic Motorsport | female | EQ |
| AW-4T | AG-4T | 6,350 mm (.250") | 9,525 mm (.375") | 7,14 mm (.281") | 39,67 mm (1.562") | 19,05 mm (.750") | 19,05 mm (.750") | 1/4"-28 | UNF-3B | ​14,4° | no preload | Aurora | Alloy steel, heat treated | Low carbon steel | Alloy steel, heat treated, hard chrome plated | 121° C (250° F) | ★★ Basic Motorsport | female | EQ |
| AW-5T | AG-5T | 7,938 mm (.3125") | ​11,10 mm (.437") | 8,74 mm (.344") | 47,625 mm (1.875") | 22,23 mm (.875") | 19,05 mm (.750") | 5/16"-24 | UNF-3B | ​11° | no preload | Aurora | Alloy steel, heat treated | Low carbon steel | Alloy steel, heat treated, hard chrome plated | 121° C (250° F) | ★★ Basic Motorsport | female | EQ |
| AW-6T | AG-6T | 9,525 mm (.375") | ​12,70 mm (.500") | 10,31 mm (.406") | 49,23 mm (1.938") | 25,40 mm (1.000") | 23,80 mm (.937") | ​3/8"-24 | UNF-3B | 9,7° | no preload | Aurora | Alloy steel, heat treated | Low carbon steel | Alloy steel, heat treated, hard chrome plated | 121° C (250° F) | ★★ Basic Motorsport | female | EQ |
| AW-7T | AG-7T | ​11,113 mm (.4375") | ​14,27 mm (.562") | 11,10 mm (.437") | 53,975 mm (2.125") | 28,58 mm (1.125") | 26,97 mm (1.062") | ​7/16"-20 | UNF-3B | ​11,2° | no preload | Aurora | Alloy steel, heat treated | Low carbon steel | Alloy steel, heat treated, hard chrome plated | 121° C (250° F) | ★★ Basic Motorsport | female | EQ |
| AW-8T | AG-8T | ​12,700 mm (.500") | ​15,875 mm (.625") | 12,70 mm (.500") | 61,93 mm (2.438") | 33,33 mm (1.312") | 30,15 mm (1.187") | 1/2"-20 | UNF-3B | 9,6° | no preload | Aurora | Alloy steel, heat treated | Low carbon steel | Alloy steel, heat treated, hard chrome plated | 121° C (250° F) | ★★ Basic Motorsport | female | EQ |
| AW-10T | AG-10T | ​15,875 mm (.625") | ​19,05 mm (.750") | 14,27 mm (.562") | 66,675 mm (2.625") | 38,10 mm (1.500") | 38,10 mm (1.500") | 5/8"-18 | UNF-3B | ​11,8° | no preload | Aurora | Alloy steel, heat treated | Low carbon steel | Alloy steel, heat treated, hard chrome plated | 121° C (250° F) | ★★ Basic Motorsport | female | EQ |
| AW-12T | AG-12T | ​19,050 mm (.750") | ​22,225 mm (.875") | 17,45 mm (.687") | 73,025 mm (2.875") | 44,45 mm (1.750") | 44,45 mm (1.750") | ​3/4"-16 | UNF-3B | ​10,3° | no preload | Aurora | Alloy steel, heat treated | Low carbon steel | Alloy steel, heat treated, hard chrome plated | 121° C (250° F) | ★★ Basic Motorsport | female | EQ |
| AW-14T | AG-14T | ​22,225 mm (.875") | ​22,225 mm (.875") | 19,43 mm (.765") | 85,725 mm (3.375") | 50,80 mm (2.000") | 47,63 mm (1.875") | ​7/8"-14 | UNF-3B | 5,7° | no preload | Aurora | Alloy steel, heat treated | Low carbon steel | Alloy steel, heat treated, hard chrome plated | 121° C (250° F) | ★★ Basic Motorsport | female | EQ |
| AW-16T | AG-16T | ​25,400 mm (1.000") | ​34,93 mm (1.375") | 25,40 mm (1.000") | ​104,78 mm (4.125") | 69,85 mm (2.750") | 53,98 mm (2.125") | ​1 1/4"-12 | UNF-2B | ​15° | no preload | Aurora | Alloy steel, heat treated | Low carbon steel | Alloy steel, heat treated, hard chrome plated | 121° C (250° F) | ★★ Basic Motorsport | female | EQ |
| AW-16T-1 | AG-16T-1 | ​25,400 mm (1.000") | ​34,93 mm (1.375") | 25,40 mm (1.000") | ​104,78 mm (4.125") | 69,85 mm (2.750") | 53,98 mm (2.125") | 1"-14 | UNS | ​15° | no preload | Aurora | Alloy steel, heat treated | Low carbon steel | Alloy steel, heat treated, hard chrome plated | 121° C (250° F) | ★★ Basic Motorsport | female | EQ |
| AW-16T-2 | AG-16T-2 | ​25,400 mm (1.000") | ​34,93 mm (1.375") | 25,40 mm (1.000") | ​104,78 mm (4.125") | 69,85 mm (2.750") | 53,98 mm (2.125") | 1"-14 | UNF-2B | ​15° | no preload | Aurora | Alloy steel, heat treated | Low carbon steel | Alloy steel, heat treated, hard chrome plated | 121° C (250° F) | ★★ Basic Motorsport | female | EQ |
| AW-M5T | AG-M5T | 5,000 mm | 8,00 mm | 6,25 mm | 27,00 mm | 16,00 mm | 14,00 mm | M5 x 0,8 | | ​11,8° | no preload | Aurora | Alloy steel, heat treated | Alloy steel, heat treated | Alloy steel, heat treated, hard chrome plated | 121° C (250° F) | ★★ Basic Motorsport | female | EQ |
| AW-M6T | AG-M6T | 6,000 mm | 9,00 mm | 7,00 mm | 30,00 mm | 19,00 mm | 14,00 mm | M6 x 1 | | ​11,7° | no preload | Aurora | Alloy steel, heat treated | Alloy steel, heat treated | Alloy steel, heat treated, hard chrome plated | 121° C (250° F) | ★★ Basic Motorsport | female | EQ |
| AWF-M8T | AGF-M8T | 8,000 mm | ​12,00 mm | 8,75 mm | 36,00 mm | 22,25 mm | 17,00 mm | M8 x 1 | | ​15,6° | no preload | Aurora | Alloy steel, heat treated | Alloy steel, heat treated | Alloy steel, heat treated, hard chrome plated | 121° C (250° F) | ★★ Basic Motorsport | female | EQ |
| AW-M8T | AG-M8T | 8,000 mm | ​12,00 mm | 8,75 mm | 36,00 mm | 22,25 mm | 17,00 mm | M8 x 1,25 | | ​15,6° | no preload | Aurora | Alloy steel, heat treated | Alloy steel, heat treated | Alloy steel, heat treated, hard chrome plated | 121° C (250° F) | ★★ Basic Motorsport | female | EQ |
| AWF-M10T | AGF-M10T | ​10,000 mm | ​14,00 mm | 10,50 mm | 43,00 mm | 27,00 mm | 21,00 mm | M​10 x 1,25 | | ​13,9° | no preload | Aurora | Alloy steel, heat treated | Alloy steel, heat treated | Alloy steel, heat treated, hard chrome plated | 121° C (250° F) | ★★ Basic Motorsport | female | EQ |
| AW-M10T | AG-M10T | ​10,000 mm | ​14,00 mm | 10,50 mm | 43,00 mm | 27,00 mm | 21,00 mm | M​10 x 1,5 | | ​13,9° | no preload | Aurora | Alloy steel, heat treated | Alloy steel, heat treated | Alloy steel, heat treated, hard chrome plated | 121° C (250° F) | ★★ Basic Motorsport | female | EQ |
| AWF-M12T | AGF-M12T | ​12,000 mm | ​16,00 mm | 12,00 mm | 50,00 mm | 30,00 mm | 24,00 mm | M​12 x 1,25 | | ​13,4° | no preload | Aurora | Alloy steel, heat treated | Alloy steel, heat treated | Alloy steel, heat treated, hard chrome plated | 121° C (250° F) | ★★ Basic Motorsport | female | EQ |
| AW-M12T | AG-M12T | ​12,000 mm | ​16,00 mm | 12,00 mm | 50,00 mm | 30,00 mm | 24,00 mm | M​12 x 1,75 | | ​13,4° | no preload | Aurora | Alloy steel, heat treated | Alloy steel, heat treated | Alloy steel, heat treated, hard chrome plated | 121° C (250° F) | ★★ Basic Motorsport | female | EQ |
| AWF-M14T | AGF-M14T | ​14,000 mm | ​19,00 mm | 13,50 mm | 57,00 mm | 34,75 mm | 27,00 mm | M​14 x 1,5 | | ​16,3° | no preload | Aurora | Alloy steel, heat treated | Alloy steel, heat treated | Alloy steel, heat treated, hard chrome plated | 121° C (250° F) | ★★ Basic Motorsport | female | EQ |
| AW-M14T | AG-M14T | ​14,000 mm | ​19,00 mm | 13,50 mm | 57,00 mm | 34,75 mm | 27,00 mm | M​14 x 2 | | ​16,3° | no preload | Aurora | Alloy steel, heat treated | Alloy steel, heat treated | Alloy steel, heat treated, hard chrome plated | 121° C (250° F) | ★★ Basic Motorsport | female | EQ |
| AWF-M16T | AGF-M16T | ​16,000 mm | ​21,00 mm | 14,25 mm | 64,00 mm | 38,00 mm | 33,00 mm | M​16 x 1,5 | | ​17,4° | no preload | Aurora | Alloy steel, heat treated | Alloy steel, heat treated | Alloy steel, heat treated, hard chrome plated | 121° C (250° F) | ★★ Basic Motorsport | female | EQ |
| AW-M16T | AG-M16T | ​16,000 mm | ​21,00 mm | 14,25 mm | 64,00 mm | 38,00 mm | 33,00 mm | M​16 x 2 | | ​17,4° | no preload | Aurora | Alloy steel, heat treated | Alloy steel, heat treated | Alloy steel, heat treated, hard chrome plated | 121° C (250° F) | ★★ Basic Motorsport | female | EQ |
| AW-M18T | AG-M18T | ​18,000 mm | ​23,00 mm | 16,25 mm | 71,00 mm | 42,00 mm | 36,00 mm | M​18 x 1,5 | | ​15,6° | no preload | Aurora | Alloy steel, heat treated | Alloy steel, heat treated | Alloy steel, heat treated, hard chrome plated | 121° C (250° F) | ★★ Basic Motorsport | female | EQ |
| AWF-M20T | AGF-M20T | ​20,000 mm | ​25,00 mm | 18,00 mm | 77,00 mm | 46,00 mm | 40,00 mm | M​20 x 1,5 | | ​14,7° | no preload | Aurora | Alloy steel, heat treated | Alloy steel, heat treated | Alloy steel, heat treated, hard chrome plated | 121° C (250° F) | ★★ Basic Motorsport | female | EQ |
| AW-M20T | AG-M20T | ​20,000 mm | ​25,00 mm | 18,00 mm | 77,00 mm | 46,00 mm | 40,00 mm | M​20 x 2,5 | | ​14,7° | no preload | Aurora | Alloy steel, heat treated | Alloy steel, heat treated | Alloy steel, heat treated, hard chrome plated | 121° C (250° F) | ★★ Basic Motorsport | female | EQ |
| AW-M22T | AG-M22T | ​22,000 mm | ​28,00 mm | 19,50 mm | 86,00 mm | 50,00 mm | 43,00 mm | M​22 x 1,5 | | ​16,5° | no preload | Aurora | Alloy steel, heat treated | Alloy steel, heat treated | Alloy steel, heat treated, hard chrome plated | 121° C (250° F) | ★★ Basic Motorsport | female | EQ |
| AW-M25T | AG-M25T | ​25,000 mm | ​31,00 mm | 22,00 mm | 95,00 mm | 60,00 mm | 48,00 mm | M​24 x 2 | | ​15,4° | no preload | Aurora | Alloy steel, heat treated | Alloy steel, heat treated | Alloy steel, heat treated, hard chrome plated | 121° C (250° F) | ★★ Basic Motorsport | female | EQ |
| AW-M30T | AG-M30T | ​30,000 mm | ​37,00 mm | 25,40 mm (1.000") | ​104,78 mm (4.125") | 69,85 mm (2.750") | 53,98 mm (2.125") | M​30 x 2 | | ​16,5° | no preload | Aurora | Alloy steel, heat treated | Alloy steel, heat treated | Alloy steel, heat treated, hard chrome plated | 121° C (250° F) | ★★ Basic Motorsport | female | EQ |
| MW-3T | MG-3T | 4,826 mm (.190") | 7,92 mm (.312") | 6,35 mm (.250") | 31,75 mm (1.250") | 15,88 mm (.625") | 14,27 mm (.562") | #10-32 | UNF-2B | ​10,7° | no preload | Aurora | Low carbon steel | Low carbon steel | Alloy steel, heat treated, hard chrome plated | 121° C (250° F) | ★ Premium Industrial | female | EQ |
| MW-4T | MG-4T | 6,350 mm (.250") | 9,525 mm (.375") | 7,14 mm (.281") | 39,67 mm (1.562") | 19,05 mm (.750") | 19,05 mm (.750") | 1/4"-28 | UNF-2B | ​14,4° | no preload | Aurora | Low carbon steel | Low carbon steel | Alloy steel, heat treated, hard chrome plated | 121° C (250° F) | ★ Premium Industrial | female | EQ |
| MW-5T | MG-5T | 7,938 mm (.3125") | ​11,10 mm (.437") | 8,74 mm (.344") | 47,625 mm (1.875") | 22,23 mm (.875") | 19,05 mm (.750") | 5/16"-24 | UNF-2B | ​11° | no preload | Aurora | Low carbon steel | Low carbon steel | Alloy steel, heat treated, hard chrome plated | 121° C (250° F) | ★ Premium Industrial | female | EQ |
| MW-6T | MG-6T | 9,525 mm (.375") | ​12,70 mm (.500") | 10,31 mm (.406") | 49,23 mm (1.938") | 25,40 mm (1.000") | 23,80 mm (.937") | ​3/8"-24 | UNF-2B | 9,7° | no preload | Aurora | Low carbon steel | Low carbon steel | Alloy steel, heat treated, hard chrome plated | 121° C (250° F) | ★ Premium Industrial | female | EQ |
| MW-7T | MG-7T | ​11,113 mm (.4375") | ​14,27 mm (.562") | 11,10 mm (.437") | 53,975 mm (2.125") | 28,58 mm (1.125") | 26,97 mm (1.062") | ​7/16"-20 | UNF-2B | ​11,2° | no preload | Aurora | Low carbon steel | Low carbon steel | Alloy steel, heat treated, hard chrome plated | 121° C (250° F) | ★ Premium Industrial | female | EQ |
| MW-8T | MG-8T | ​12,700 mm (.500") | ​15,875 mm (.625") | 12,70 mm (.500") | 61,93 mm (2.438") | 33,33 mm (1.312") | 30,15 mm (1.187") | 1/2"-20 | UNF-2B | 9,6° | no preload | Aurora | Low carbon steel | Low carbon steel | Alloy steel, heat treated, hard chrome plated | 121° C (250° F) | ★ Premium Industrial | female | EQ |
| MW-10T | MG-10T | ​15,875 mm (.625") | ​19,05 mm (.750") | 14,27 mm (.562") | 66,675 mm (2.625") | 38,10 mm (1.500") | 38,10 mm (1.500") | 5/8"-18 | UNF-2B | ​11,8° | no preload | Aurora | Low carbon steel | Low carbon steel | Alloy steel, heat treated, hard chrome plated | 121° C (250° F) | ★ Premium Industrial | female | EQ |
| MW-12T | MG-12T | ​19,050 mm (.750") | ​22,225 mm (.875") | 17,45 mm (.687") | 73,025 mm (2.875") | 44,45 mm (1.750") | 44,45 mm (1.750") | ​3/4"-16 | UNF-2B | ​10,3° | no preload | Aurora | Low carbon steel | Low carbon steel | Alloy steel, heat treated, hard chrome plated | 121° C (250° F) | ★ Premium Industrial | female | EQ |
| MW-14T | MG-14T | ​22,225 mm (.875") | ​22,225 mm (.875") | 19,43 mm (.765") | 85,725 mm (3.375") | 50,80 mm (2.000") | 47,63 mm (1.875") | ​7/8"-14 | UNF-2B | 5,7° | no preload | Aurora | Low carbon steel | Low carbon steel | Alloy steel, heat treated, hard chrome plated | 121° C (250° F) | ★ Premium Industrial | female | EQ |
| MW-14T-1 | MG-14T-1 | ​22,225 mm (.875") | ​22,225 mm (.875") | 17,45 mm (.687") | 85,725 mm (3.375") | 50,80 mm (2.000") | 46,02 mm (1.812") | ​7/8"-14 | UNF-2B | ​10,3° | no preload | Aurora | Low carbon steel | Low carbon steel | Alloy steel, heat treated, hard chrome plated | 121° C (250° F) | ★ Premium Industrial | female | EQ |
| MW-16T | MG-16T | ​25,400 mm (1.000") | ​34,93 mm (1.375") | 25,40 mm (1.000") | ​104,78 mm (4.125") | 69,85 mm (2.750") | 53,98 mm (2.125") | ​1 1/4"-12 | UNF-2B | ​15° | no preload | Aurora | Alloy steel | Low carbon steel | Alloy steel, heat treated, hard chrome plated | 121° C (250° F) | ★ Premium Industrial | female | EQ |
| MW-16T-1 | MG-16T-1 | ​25,400 mm (1.000") | ​34,93 mm (1.375") | 25,40 mm (1.000") | ​104,78 mm (4.125") | 69,85 mm (2.750") | 53,98 mm (2.125") | 1"-14 | UNS | ​15° | no preload | Aurora | Alloy steel | Low carbon steel | Alloy steel, heat treated, hard chrome plated | 121° C (250° F) | ★ Premium Industrial | female | EQ |
| MW-16T-2 | MG-16T-2 | ​25,400 mm (1.000") | ​34,93 mm (1.375") | 25,40 mm (1.000") | ​104,78 mm (4.125") | 69,85 mm (2.750") | 53,98 mm (2.125") | 1"-14 | UNF-2B | ​15° | no preload | Aurora | Alloy steel | Low carbon steel | Alloy steel, heat treated, hard chrome plated | 121° C (250° F) | ★ Premium Industrial | female | EQ |
| GISW 05 | GILSW 05 | 5,000 mm | 8,00 mm | 6,00 mm | 27,00 mm | 18,00 mm | 10,00 mm | M5 x 0,8 | | ​13,4° | no preload | Fluro | 9SMnPb28K low carbon steel | 9SMnPb28K low carbon steel | 100Cr6 alloy steel | | ★ Premium Industrial | female | EQ |
| GISW 06 | GILSW 06 | 6,000 mm | 9,00 mm | 6,75 mm | 30,00 mm | 20,00 mm | 12,00 mm | M6 x 1 | | ​13° | no preload | Fluro | 9SMnPb28K low carbon steel | 9SMnPb28K low carbon steel | 100Cr6 alloy steel | | ★ Premium Industrial | female | EQ |
| GISW 08 | GILSW 08 | 8,000 mm | ​12,00 mm | 9,00 mm | 36,00 mm | 24,00 mm | 16,00 mm | M8 x 1,25 | | ​14,6° | no preload | Fluro | 9SMnPb28K low carbon steel | 9SMnPb28K low carbon steel | 100Cr6 alloy steel | | ★ Premium Industrial | female | EQ |
| GISW 10 | GILSW 10 | ​10,000 mm | ​14,00 mm | 10,50 mm | 43,00 mm | 28,00 mm | 20,00 mm | M​10 x 1,5 | | ​13,9° | no preload | Fluro | 9SMnPb28K low carbon steel | 9SMnPb28K low carbon steel | 100Cr6 alloy steel | | ★ Premium Industrial | female | EQ |
| GISW 12 | GILSW 12 | ​12,000 mm | ​16,00 mm | 12,00 mm | 50,00 mm | 32,00 mm | 22,00 mm | M​12 x 1,75 | | ​13,4° | no preload | Fluro | 9SMnPb28K low carbon steel | 9SMnPb28K low carbon steel | 100Cr6 alloy steel | | ★ Premium Industrial | female | EQ |
| GISW 14 | GILSW 14 | ​14,000 mm | ​19,00 mm | 13,50 mm | 57,00 mm | 36,00 mm | 25,00 mm | M​14 x 2 | | ​16,3° | no preload | Fluro | C22 low carbon steel, heat-treated | 9SMnPb28K low carbon steel | 100Cr6 alloy steel | | ★ Premium Industrial | female | EQ |
| GISW 16 | GILSW 16 | ​16,000 mm | ​21,00 mm | 15,00 mm | 64,00 mm | 42,00 mm | 28,00 mm | M​16 x 2 | | ​15,6° | no preload | Fluro | C22 low carbon steel, heat-treated | 9SMnPb28K low carbon steel | 100Cr6 alloy steel | | ★ Premium Industrial | female | EQ |
| GISW 18 | GILSW 18 | ​18,000 mm | ​23,00 mm | 16,50 mm | 71,00 mm | 46,00 mm | 32,00 mm | M​18 x 1,5 | | ​15,1° | no preload | Fluro | C22 low carbon steel, heat-treated | 9SMnPb28K low carbon steel | 100Cr6 alloy steel | | ★ Premium Industrial | female | EQ |
| GISW 20 | GILSW 20 | ​20,000 mm | ​25,00 mm | 18,00 mm | 77,00 mm | 50,00 mm | 33,00 mm | M​20 x 1,5 | | ​14,7° | no preload | Fluro | C22 low carbon steel, heat-treated | 9SMnPb28K low carbon steel | 100Cr6 alloy steel | | ★ Premium Industrial | female | EQ |
| GISW 22 | GILSW 22 | ​22,000 mm | ​28,00 mm | 20,00 mm | 84,00 mm | 54,00 mm | 37,00 mm | M​22 x 1,5 | | ​15,6° | no preload | Fluro | C22 low carbon steel, heat-treated | 9SMnPb28K low carbon steel | 100Cr6 alloy steel | | ★ Premium Industrial | female | EQ |
| GISW 25 | GILSW 25 | ​25,000 mm | ​31,00 mm | 22,00 mm | 94,00 mm | 60,00 mm | 42,00 mm | M​24 x 2 | | ​15,4° | no preload | Fluro | C22 low carbon steel, heat-treated | 9SMnPb28K low carbon steel | 100Cr6 alloy steel | | ★ Premium Industrial | female | EQ |
| GISW 30 | GILSW 30 | ​30,000 mm | ​37,00 mm | 25,00 mm | ​110,00 mm | 70,00 mm | 51,00 mm | M​30 x 2 | | ​17,3° | no preload | Fluro | C22 low carbon steel, heat-treated | 9SMnPb28K low carbon steel | 100Cr6 alloy steel | | ★ Premium Industrial | female | EQ |
| GISW 35 | GILSW 35 | ​35,000 mm | ​43,00 mm | 28,00 mm | ​125,00 mm | 80,00 mm | 56,00 mm | M​36 x 2 | | ​19,5° | no preload | Fluro | C22 low carbon steel, heat-treated | 9SMnPb28K low carbon steel | 100Cr6 alloy steel | | ★ Premium Industrial | female | EQ |
| GISW 40 | GILSW 40 | ​40,000 mm | ​49,00 mm | 35,00 mm | ​142,00 mm | 90,00 mm | 60,00 mm | M​42 x 2 | | ​15,9° | no preload | Fluro | C22 low carbon steel, heat-treated | 9SMnPb28K low carbon steel | 100Cr6 alloy steel | | ★ Premium Industrial | female | EQ |
| GISW 50 | GILSW 50 | ​50,000 mm | ​60,00 mm | 45,00 mm | ​160,00 mm | ​116,00 mm | 65,00 mm | M​48 x 2 | | ​13,7° | no preload | Fluro | C22 low carbon steel, heat-treated | 9SMnPb28K low carbon steel | 100Cr6 alloy steel | | ★ Premium Industrial | female | EQ |
| GIXSW 06 | GILXSW 06 | 6,000 mm | 9,00 mm | 6,75 mm | 30,00 mm | 20,00 mm | 12,00 mm | M6 x 1 | | ​13° | no preload | Fluro | 42CrMo4 alloy steel, heat treated | 9SMnPb28K low carbon steel | 100Cr6 alloy steel | | ★★ Basic Motorsport | female | EQ |
| GIXSW 08 | GILXSW 08 | 8,000 mm | ​12,00 mm | 9,00 mm | 36,00 mm | 24,00 mm | 16,00 mm | M8 x 1,25 | | ​14,6° | no preload | Fluro | 42CrMo4 alloy steel, heat treated | 9SMnPb28K low carbon steel | 100Cr6 alloy steel | | ★★ Basic Motorsport | female | EQ |
| GIXSW 10 | GILXSW 10 | ​10,000 mm | ​14,00 mm | 10,50 mm | 43,00 mm | 28,00 mm | 20,00 mm | M​10 x 1,5 | | ​13,9° | no preload | Fluro | 42CrMo4 alloy steel, heat treated | 9SMnPb28K low carbon steel | 100Cr6 alloy steel | | ★★ Basic Motorsport | female | EQ |
| GIXSW 12 | GILXSW 12 | ​12,000 mm | ​16,00 mm | 12,00 mm | 50,00 mm | 32,00 mm | 22,00 mm | M​12 x 1,75 | | ​13,4° | no preload | Fluro | 42CrMo4 alloy steel, heat treated | 9SMnPb28K low carbon steel | 100Cr6 alloy steel | | ★★ Basic Motorsport | female | EQ |
| GIXSW 14 | GILXSW 14 | ​14,000 mm | ​19,00 mm | 13,50 mm | 57,00 mm | 36,00 mm | 25,00 mm | M​14 x 2 | | ​16,3° | no preload | Fluro | 42CrMo4 alloy steel, heat treated | 9SMnPb28K low carbon steel | 100Cr6 alloy steel | | ★★ Basic Motorsport | female | EQ |
| GIXSW 16 | GILXSW 16 | ​16,000 mm | ​21,00 mm | 15,00 mm | 64,00 mm | 42,00 mm | 28,00 mm | M​16 x 2 | | ​15,6° | no preload | Fluro | 42CrMo4 alloy steel, heat treated | 9SMnPb28K low carbon steel | 100Cr6 alloy steel | | ★★ Basic Motorsport | female | EQ |
| GIXSW 18 | GILXSW 18 | ​18,000 mm | ​23,00 mm | 16,50 mm | 71,00 mm | 46,00 mm | 32,00 mm | M​18 x 1,5 | | ​15,1° | no preload | Fluro | 42CrMo4 alloy steel, heat treated | 9SMnPb28K low carbon steel | 100Cr6 alloy steel | | ★★ Basic Motorsport | female | EQ |
| GIXSW 20 | GILXSW 20 | ​20,000 mm | ​25,00 mm | 18,00 mm | 77,00 mm | 50,00 mm | 33,00 mm | M​20 x 1,5 | | ​14,7° | no preload | Fluro | 42CrMo4 alloy steel, heat treated | 9SMnPb28K low carbon steel | 100Cr6 alloy steel | | ★★ Basic Motorsport | female | EQ |
| GIXSW 22 | GILXSW 22 | ​22,000 mm | ​28,00 mm | 20,00 mm | 84,00 mm | 54,00 mm | 37,00 mm | M​22 x 1,5 | | ​15,6° | no preload | Fluro | 42CrMo4 alloy steel, heat treated | 9SMnPb28K low carbon steel | 100Cr6 alloy steel | | ★★ Basic Motorsport | female | EQ |
| GIXSW 25 | GILXSW 25 | ​25,000 mm | ​31,00 mm | 22,00 mm | 94,00 mm | 60,00 mm | 42,00 mm | M​24 x 2 | | ​15,4° | no preload | Fluro | 42CrMo4 alloy steel, heat treated | 9SMnPb28K low carbon steel | 100Cr6 alloy steel | | ★★ Basic Motorsport | female | EQ |
| GIXSW 30 | GILXSW 30 | ​30,000 mm | ​37,00 mm | 25,00 mm | ​110,00 mm | 70,00 mm | 51,00 mm | M​30 x 2 | | ​17,3° | no preload | Fluro | 42CrMo4 alloy steel, heat treated | 9SMnPb28K low carbon steel | 100Cr6 alloy steel | | ★★ Basic Motorsport | female | EQ |
| GIXSW 35 | GILXSW 35 | ​35,000 mm | ​43,00 mm | 28,00 mm | ​125,00 mm | 80,00 mm | 56,00 mm | M​36 x 2 | | ​19,5° | no preload | Fluro | 42CrMo4 alloy steel, heat treated | 9SMnPb28K low carbon steel | 100Cr6 alloy steel | | ★★ Basic Motorsport | female | EQ |
| GIXSW 40 | GILXSW 40 | ​40,000 mm | ​49,00 mm | 35,00 mm | ​142,00 mm | 90,00 mm | 60,00 mm | M​42 x 2 | | ​15,9° | no preload | Fluro | 42CrMo4 alloy steel, heat treated | 9SMnPb28K low carbon steel | 100Cr6 alloy steel | | ★★ Basic Motorsport | female | EQ |
| GIXSW 6 MS | GILXSW 6 MS | 6,000 mm | 9,00 mm | 6,75 mm | 30,00 mm | 20,00 mm | 12,00 mm | M6 x 1 | | ​13° | 4-10 N/dm | Fluro | 42CrMo4 alloy steel, heat treated, bright nickel plated | Aisi 316Ti stainless steel | 100Cr6 alloy steel, hard chrome plated | | ★★★ Performance Motorsport | female | EQ |
| GIXSW 8 MS | GILXSW 8 MS | 8,000 mm | ​12,00 mm | 9,00 mm | 36,00 mm | 24,00 mm | 16,00 mm | M8 x 1,25 | | ​14,6° | 4-12 N/dm | Fluro | 42CrMo4 alloy steel, heat treated, bright nickel plated | Aisi 316Ti stainless steel | 100Cr6 alloy steel, hard chrome plated | | ★★★ Performance Motorsport | female | EQ |
| GIXSW 10x1,25 MS | GILXSW 10x1,25 MS | ​10,000 mm | ​14,00 mm | 10,50 mm | 43,00 mm | 28,00 mm | 20,00 mm | M​10 x 1,25 | | ​13,9° | 6-16 N/dm | Fluro | 42CrMo4 alloy steel, heat treated, bright nickel plated | Aisi 316Ti stainless steel | 100Cr6 alloy steel, hard chrome plated | | ★★★ Performance Motorsport | female | EQ |
| GIXSW 10 MS | GILXSW 10 MS | ​10,000 mm | ​14,00 mm | 10,50 mm | 43,00 mm | 28,00 mm | 20,00 mm | M​10 x 1,5 | | ​13,9° | 6-16 N/dm | Fluro | 42CrMo4 alloy steel, heat treated, bright nickel plated | Aisi 316Ti stainless steel | 100Cr6 alloy steel, hard chrome plated | | ★★★ Performance Motorsport | female | EQ |
| GIXSW 12x1,25 MS | GILXSW 12x1,25 MS | ​12,000 mm | ​16,00 mm | 12,00 mm | 50,00 mm | 32,00 mm | 22,00 mm | M​12 x 1,25 | | ​13,4° | 10-22 N/dm | Fluro | 42CrMo4 alloy steel, heat treated, bright nickel plated | Aisi 316Ti stainless steel | 100Cr6 alloy steel, hard chrome plated | | ★★★ Performance Motorsport | female | EQ |
| GIXSW 12 MS | GILXSW 12 MS | ​12,000 mm | ​16,00 mm | 12,00 mm | 50,00 mm | 32,00 mm | 22,00 mm | M​12 x 1,75 | | ​13,4° | 10-22 N/dm | Fluro | 42CrMo4 alloy steel, heat treated, bright nickel plated | Aisi 316Ti stainless steel | 100Cr6 alloy steel, hard chrome plated | | ★★★ Performance Motorsport | female | EQ |
| GIXSW 14 MS | GILXSW 14 MS | ​14,000 mm | ​19,00 mm | 13,50 mm | 57,00 mm | 36,00 mm | 25,00 mm | M​14 x 2 | | ​16,3° | 12-24 N/dm | Fluro | 42CrMo4 alloy steel, heat treated, bright nickel plated | Aisi 316Ti stainless steel | 100Cr6 alloy steel, hard chrome plated | | ★★★ Performance Motorsport | female | EQ |
| GIXSW 14x1,5 MS | GILXSW 14x1,5 MS | ​14,000 mm | ​19,00 mm | 13,50 mm | 57,00 mm | 36,00 mm | 25,00 mm | M​14 x 1,5 | | ​16,3° | 12-24 N/dm | Fluro | 42CrMo4 alloy steel, heat treated, bright nickel plated | Aisi 316Ti stainless steel | 100Cr6 alloy steel, hard chrome plated | | ★★★ Performance Motorsport | female | EQ |
| GIXSW 16 MS | GILXSW 16 MS | ​16,000 mm | ​21,00 mm | 15,00 mm | 64,00 mm | 42,00 mm | 28,00 mm | M​16 x 2 | | ​15,6° | 14-28 N/dm | Fluro | 42CrMo4 alloy steel, heat treated, bright nickel plated | Aisi 316Ti stainless steel | 100Cr6 alloy steel, hard chrome plated | | ★★★ Performance Motorsport | female | EQ |
| GIXSW 16x1,5 MS | GILXSW 16x1,5 MS | ​16,000 mm | ​21,00 mm | 15,00 mm | 64,00 mm | 42,00 mm | 28,00 mm | M​16 x 1,5 | | ​15,6° | 14-28 N/dm | Fluro | 42CrMo4 alloy steel, heat treated, bright nickel plated | Aisi 316Ti stainless steel | 100Cr6 alloy steel, hard chrome plated | | ★★★ Performance Motorsport | female | EQ |
| GIXSW 18 MS | GILXSW 18 MS | ​18,000 mm | ​23,00 mm | 16,50 mm | 71,00 mm | 46,00 mm | 32,00 mm | M​18 x 1,5 | | ​15,1° | 18-32 N/dm | Fluro | 42CrMo4 alloy steel, heat treated, bright nickel plated | Aisi 316Ti stainless steel | 100Cr6 alloy steel, hard chrome plated | | ★★★ Performance Motorsport | female | EQ |
| GIXSW 20 MS | GILXSW 20 MS | ​20,000 mm | ​25,00 mm | 18,00 mm | 77,00 mm | 50,00 mm | 33,00 mm | M​20 x 1,5 | | ​14,7° | 20-34 N/dm | Fluro | 42CrMo4 alloy steel, heat treated, bright nickel plated | Aisi 316Ti stainless steel | 100Cr6 alloy steel, hard chrome plated | | ★★★ Performance Motorsport | female | EQ |
| RF 5 SE | RFL 5 SE | 5,000 mm | 8,00 mm | 6,00 mm | 27,00 mm | 18,00 mm | 10,00 mm | M5 x 0,8 | | ​13,4° | no preload | Rodobal | 9SMnPb28K low carbon steel | C22 low carbon steel | 100Cr6 alloy steel | | ★ Premium Industrial | female | EQ |
| RF 6 SE | RFL 6 SE | 6,000 mm | 9,00 mm | 6,75 mm | 30,00 mm | 20,00 mm | 12,00 mm | M6 x 1 | | ​13° | no preload | Rodobal | 9SMnPb28K low carbon steel | C22 low carbon steel | 100Cr6 alloy steel | | ★ Premium Industrial | female | EQ |
| RF 8 SE | RFL 8 SE | 8,000 mm | ​12,00 mm | 9,00 mm | 36,00 mm | 24,00 mm | 16,00 mm | M8 x 1,25 | | ​14,6° | no preload | Rodobal | 9SMnPb28K low carbon steel | C22 low carbon steel | 100Cr6 alloy steel | | ★ Premium Industrial | female | EQ |
| RF 10 SE | RFL 10 SE | ​10,000 mm | ​14,00 mm | 10,50 mm | 43,00 mm | 28,00 mm | 20,00 mm | M​10 x 1,5 | | ​13,9° | no preload | Rodobal | 9SMnPb28K low carbon steel | C22 low carbon steel | 100Cr6 alloy steel | | ★ Premium Industrial | female | EQ |
| RF 12 SE | RFL 12 SE | ​12,000 mm | ​16,00 mm | 12,00 mm | 50,00 mm | 32,00 mm | 22,00 mm | M​12 x 1,75 | | ​13,4° | no preload | Rodobal | 9SMnPb28K low carbon steel | C22 low carbon steel | 100Cr6 alloy steel | | ★ Premium Industrial | female | EQ |
| RF 14 SE | RFL 14 SE | ​14,000 mm | ​19,00 mm | 13,50 mm | 57,00 mm | 36,00 mm | 25,00 mm | M​14 x 2 | | ​16,3° | no preload | Rodobal | C22 low carbon steel, heat-treated | C22 low carbon steel | 100Cr6 alloy steel | | ★ Premium Industrial | female | EQ |
| RF 16 SE | RFL 16 SE | ​16,000 mm | ​21,00 mm | 15,00 mm | 64,00 mm | 42,00 mm | 28,00 mm | M​16 x 2 | | ​15,6° | no preload | Rodobal | C22 low carbon steel, heat-treated | C22 low carbon steel | 100Cr6 alloy steel | | ★ Premium Industrial | female | EQ |
| RF 18 SE | RFL 18 SE | ​18,000 mm | ​23,00 mm | 16,50 mm | 71,00 mm | 46,00 mm | 32,00 mm | M​18 x 1,5 | | ​15,1° | no preload | Rodobal | C22 low carbon steel, heat-treated | C22 low carbon steel | 100Cr6 alloy steel | | ★ Premium Industrial | female | EQ |
| RF 20 SE | RFL 20 SE | ​20,000 mm | ​25,00 mm | 18,00 mm | 77,00 mm | 50,00 mm | 33,00 mm | M​20 x 1,5 | | ​14,7° | no preload | Rodobal | C22 low carbon steel, heat-treated | C22 low carbon steel | 100Cr6 alloy steel | | ★ Premium Industrial | female | EQ |
| RF 22 SE | RFL 22 SE | ​22,000 mm | ​28,00 mm | 20,00 mm | 84,00 mm | 54,00 mm | 37,00 mm | M​22 x 1,5 | | ​15,6° | no preload | Rodobal | C22 low carbon steel, heat-treated | C22 low carbon steel | 100Cr6 alloy steel | | ★ Premium Industrial | female | EQ |
| RF 25 SE | RFL 25 SE | ​25,000 mm | ​31,00 mm | 22,00 mm | 94,00 mm | 60,00 mm | 42,00 mm | M​24 x 2 | | ​15,4° | no preload | Rodobal | C22 low carbon steel, heat-treated | C22 low carbon steel | 100Cr6 alloy steel | | ★ Premium Industrial | female | EQ |
| RF 30 SE | RFL 30 SE | ​30,000 mm | ​37,00 mm | 25,00 mm | ​110,00 mm | 70,00 mm | 51,00 mm | M​30 x 2 | | ​17,3° | no preload | Rodobal | C22 low carbon steel, heat-treated | C22 low carbon steel | | | ★ Premium Industrial | female | EQ |
| RF 35 SE | RFL 35 SE | ​35,000 mm | ​43,00 mm | 28,00 mm | ​125,00 mm | 80,00 mm | 56,00 mm | M​36 x 2 | | ​19,5° | no preload | Rodobal | C22 low carbon steel, heat-treated | C22 low carbon steel | | | ★ Premium Industrial | female | EQ |
| RF 40 SE | RFL 40 SE | ​40,000 mm | ​49,00 mm | 35,00 mm | ​142,00 mm | 90,00 mm | 60,00 mm | M​42 x 2 | | ​15,9° | no preload | Rodobal | C22 low carbon steel, heat-treated | C22 low carbon steel | | | ★ Premium Industrial | female | EQ |
| RF 6 XE | RFL 6 XE | 6,000 mm | 9,00 mm | 6,75 mm | 30,00 mm | 20,00 mm | 12,00 mm | M6 x 1 | | ​13° | no preload | Rodobal | 42CrMo4 alloy steel, heat treated | C22 low carbon steel | 100Cr6 alloy steel | | ★★ Basic Motorsport | female | EQ |
| RF 8 XE | RFL 8 XE | 8,000 mm | ​12,00 mm | 9,00 mm | 36,00 mm | 24,00 mm | 16,00 mm | M8 x 1,25 | | ​14,6° | no preload | Rodobal | 42CrMo4 alloy steel, heat treated | C22 low carbon steel | 100Cr6 alloy steel | | ★★ Basic Motorsport | female | EQ |
| RF 10 XE | RFL 10 XE | ​10,000 mm | ​14,00 mm | 10,50 mm | 43,00 mm | 28,00 mm | 20,00 mm | M​10 x 1,5 | | ​13,9° | no preload | Rodobal | 42CrMo4 alloy steel, heat treated | C22 low carbon steel | 100Cr6 alloy steel | | ★★ Basic Motorsport | female | EQ |
| RF 12 XE | RFL 12 XE | ​12,000 mm | ​16,00 mm | 12,00 mm | 50,00 mm | 32,00 mm | 22,00 mm | M​12 x 1,75 | | ​13,4° | no preload | Rodobal | 42CrMo4 alloy steel, heat treated | C22 low carbon steel | 100Cr6 alloy steel | | ★★ Basic Motorsport | female | EQ |
| RF 14 XE | RFL 14 XE | ​14,000 mm | ​19,00 mm | 13,50 mm | 57,00 mm | 36,00 mm | 25,00 mm | M​14 x 2 | | ​16,3° | no preload | Rodobal | 42CrMo4 alloy steel, heat treated | C22 low carbon steel | 100Cr6 alloy steel | | ★★ Basic Motorsport | female | EQ |
| RF 16 XE | RFL 16 XE | ​16,000 mm | ​21,00 mm | 15,00 mm | 64,00 mm | 42,00 mm | 28,00 mm | M​16 x 2 | | ​15,6° | no preload | Rodobal | 42CrMo4 alloy steel, heat treated | C22 low carbon steel | 100Cr6 alloy steel | | ★★ Basic Motorsport | female | EQ |
| RF 18 XE | RFL 18 XE | ​18,000 mm | ​23,00 mm | 16,50 mm | 71,00 mm | 46,00 mm | 32,00 mm | M​18 x 1,5 | | ​15,1° | no preload | Rodobal | 42CrMo4 alloy steel, heat treated | C22 low carbon steel | 100Cr6 alloy steel | | ★★ Basic Motorsport | female | EQ |
| RF 20 XE | RFL 20 XE | ​20,000 mm | ​25,00 mm | 18,00 mm | 77,00 mm | 50,00 mm | 33,00 mm | M​20 x 1,5 | | ​14,7° | no preload | Rodobal | 42CrMo4 alloy steel, heat treated | C22 low carbon steel | 100Cr6 alloy steel | | ★★ Basic Motorsport | female | EQ |
| RF 22 XE | RFL 22 XE | ​22,000 mm | ​28,00 mm | 20,00 mm | 84,00 mm | 54,00 mm | 37,00 mm | M​22 x 1,5 | | ​15,6° | no preload | Rodobal | 42CrMo4 alloy steel, heat treated | C22 low carbon steel | 100Cr6 alloy steel | | ★★ Basic Motorsport | female | EQ |
| RF 25 XE | RFL 25 XE | ​25,000 mm | ​31,00 mm | 22,00 mm | 94,00 mm | 60,00 mm | 42,00 mm | M​24 x 2 | | ​15,4° | no preload | Rodobal | 42CrMo4 alloy steel, heat treated | C22 low carbon steel | 100Cr6 alloy steel | | ★★ Basic Motorsport | female | EQ |
| RF 30 XE | RFL 30 XE | ​30,000 mm | ​37,00 mm | 25,00 mm | ​110,00 mm | 70,00 mm | 51,00 mm | M​30 x 2 | | ​17,3° | no preload | Rodobal | 42CrMo4 alloy steel, heat treated | C22 low carbon steel | 100Cr6 alloy steel | | ★★ Basic Motorsport | female | EQ |
| RF 35 XE | RFL 35 XE | ​35,000 mm | ​43,00 mm | 28,00 mm | ​125,00 mm | 80,00 mm | 56,00 mm | M​36 x 2 | | ​19,5° | no preload | Rodobal | 42CrMo4 alloy steel, heat treated | C22 low carbon steel | 100Cr6 alloy steel | | ★★ Basic Motorsport | female | EQ |
| RF 8 MTE | RFL 8 MTE | 8,000 mm | ​12,00 mm | 9,00 mm | 36,00 mm | 24,00 mm | 16,00 mm | M8 x 1,25 | | ​14,6° | 4-12 N/dm | Rodobal | 42CrMo4 alloy steel, heat treated, bright nickel plated | Aisi 316Ti stainless steel | 100Cr6 alloy steel, hard chrome plated | | ★★★ Performance Motorsport | female | EQ |
| RF 10 MTE | RFL 10 MTE | ​10,000 mm | ​14,00 mm | 10,50 mm | 43,00 mm | 28,00 mm | 20,00 mm | M​10 x 1,5 | | ​13,9° | 6-16 N/dm | Rodobal | 42CrMo4 alloy steel, heat treated, bright nickel plated | Aisi 316Ti stainless steel | 100Cr6 alloy steel, hard chrome plated | | ★★★ Performance Motorsport | female | EQ |
| RF 10 MTEx1,25 | RFL 10 MTEx1,25 | ​10,000 mm | ​14,00 mm | 10,50 mm | 43,00 mm | 28,00 mm | 20,00 mm | M​10 x 1,25 | | ​13,9° | 6-16 N/dm | Rodobal | 42CrMo4 alloy steel, heat treated, bright nickel plated | Aisi 316Ti stainless steel | 100Cr6 alloy steel, hard chrome plated | | ★★★ Performance Motorsport | female | EQ |
| RF 12 MTE | RFL 12 MTE | ​12,000 mm | ​16,00 mm | 12,00 mm | 50,00 mm | 32,00 mm | 22,00 mm | M​12 x 1,75 | | ​13,4° | 10-22 N/dm | Rodobal | 42CrMo4 alloy steel, heat treated, bright nickel plated | Aisi 316Ti stainless steel | 100Cr6 alloy steel, hard chrome plated | | ★★★ Performance Motorsport | female | EQ |
| RF 12 MTEx1,25 | RFL 12 MTEx1,25 | ​12,000 mm | ​16,00 mm | 12,00 mm | 50,00 mm | 32,00 mm | 22,00 mm | M​12 x 1,25 | | ​13,4° | 10-22 N/dm | Rodobal | 42CrMo4 alloy steel, heat treated, bright nickel plated | Aisi 316Ti stainless steel | 100Cr6 alloy steel, hard chrome plated | | ★★★ Performance Motorsport | female | EQ |
| RF 14 MTE | RFL 14 MTE | ​14,000 mm | ​19,00 mm | 13,50 mm | 57,00 mm | 36,00 mm | 25,00 mm | M​14 x 2 | | ​16,3° | 12-24 N/dm | Rodobal | 42CrMo4 alloy steel, heat treated, bright nickel plated | Aisi 316Ti stainless steel | 100Cr6 alloy steel, hard chrome plated | | ★★★ Performance Motorsport | female | EQ |
| RF 14 MTEx1,5 | RFL 14 MTEx1,5 | ​14,000 mm | ​19,00 mm | 13,50 mm | 57,00 mm | 36,00 mm | 25,00 mm | M​14 x 1,5 | | ​16,3° | 12-24 N/dm | Rodobal | 42CrMo4 alloy steel, heat treated, bright nickel plated | Aisi 316Ti stainless steel | 100Cr6 alloy steel, hard chrome plated | | ★★★ Performance Motorsport | female | EQ |
| RF 16 MTE | RFL 16 MTE | ​16,000 mm | ​21,00 mm | 15,00 mm | 64,00 mm | 42,00 mm | 28,00 mm | M​16 x 2 | | ​15,6° | 14-28 N/dm | Rodobal | 42CrMo4 alloy steel, heat treated, bright nickel plated | Aisi 316Ti stainless steel | 100Cr6 alloy steel, hard chrome plated | | ★★★ Performance Motorsport | female | EQ |
| RF 16 MTEx1,5 | RFL 16 MTEx1,5 | ​16,000 mm | ​21,00 mm | 15,00 mm | 64,00 mm | 42,00 mm | 28,00 mm | M​16 x 1,5 | | ​15,6° | 14-28 N/dm | Rodobal | 42CrMo4 alloy steel, heat treated, bright nickel plated | Aisi 316Ti stainless steel | 100Cr6 alloy steel, hard chrome plated | | ★★★ Performance Motorsport | female | EQ |
| RF 18 MTE | RFL 18 MTE | ​18,000 mm | ​23,00 mm | 16,50 mm | 71,00 mm | 46,00 mm | 32,00 mm | M​18 x 1,5 | | ​15,1° | 18-32 N/dm | Rodobal | 42CrMo4 alloy steel, heat treated, bright nickel plated | Aisi 316Ti stainless steel | 100Cr6 alloy steel, hard chrome plated | | ★★★ Performance Motorsport | female | EQ |
| RF 20 MTE | RFL 20 MTE | ​20,000 mm | ​25,00 mm | 18,00 mm | 77,00 mm | 50,00 mm | 33,00 mm | M​20 x 1,5 | | ​14,7° | 20-34 N/dm | Rodobal | 42CrMo4 alloy steel, heat treated, bright nickel plated | Aisi 316Ti stainless steel | 100Cr6 alloy steel, hard chrome plated | | ★★★ Performance Motorsport | female | EQ |
| ARHTE4E(R) | ARHTLE4E(R) | 6,350 mm (.250") | 9,525 mm (.375") | 8,56 mm (.337") | 39,67 mm (1.562") | 20,47 mm (.806") | 24,59 mm (.968") | 5/16"-24 | UNF-3A | 5,5° | 3-10 In-Lbs | NMB Minebea | 17-4 PH stainless steel, heat treated | 17-4 PH stainless steel, heat treated | CRES 440C stainless steel, heat treated | 180° C (356° F) | ★★★ Performance Motorsport | male | HD |
| ARHTE5E(R) | ARHTLE5E(R) | 7,938 mm (.3125") | ​11,10 mm (.437") | 8,31 mm (.327") | 47,625 mm (1.875") | 22,86 mm (.900") | 30,15 mm (1.187") | ​3/8"-24 | UNF-3A | ​14° | 3-10 In-Lbs | NMB Minebea | 17-4 PH stainless steel, heat treated | 17-4 PH stainless steel, heat treated | CRES 440C stainless steel, heat treated | 180° C (356° F) | ★★★ Performance Motorsport | male | HD |
| ARHTE6E(R) | ARHTLE6E(R) | 9,525 mm (.375") | ​12,70 mm (.500") | 10,57 mm (.416") | 49,23 mm (1.938") | 26,04 mm (1.025") | 30,15 mm (1.187") | ​7/16"-20 | UNF-3A | 9,4° | 3-10 In-Lbs | NMB Minebea | 17-4 PH stainless steel, heat treated | 17-4 PH stainless steel, heat treated | CRES 440C stainless steel, heat treated | 180° C (356° F) | ★★★ Performance Motorsport | male | HD |
| ARHTE7E(R) | ARHTLE7E(R) | ​11,113 mm (.4375") | ​14,27 mm (.562") | 11,48 mm (.452") | 53,975 mm (2.125") | 29,21 mm (1.150") | 32,54 mm (1.281") | 1/2"-20 | UNF-3A | ​10,7° | 4-10 In-Lbs | NMB Minebea | 17-4 PH stainless steel, heat treated | 17-4 PH stainless steel, heat treated | CRES 440C stainless steel, heat treated | 180° C (356° F) | ★★★ Performance Motorsport | male | HD |
| ARHTE8E(R) | ARHTLE8E(R) | ​12,700 mm (.500") | ​15,875 mm (.625") | 13,08 mm (.515") | 61,93 mm (2.438") | 33,96 mm (1.337") | 37,29 mm (1.468") | 5/8"-18 | UNF-3A | 9,5° | 4-10 In-Lbs | NMB Minebea | 17-4 PH stainless steel, heat treated | 17-4 PH stainless steel, heat treated | CRES 440C stainless steel, heat treated | 180° C (356° F) | ★★★ Performance Motorsport | male | HD |
| ARHTE10E(R) | ARHTLE10E(R) | ​15,875 mm (.625") | ​19,05 mm (.750") | 14,66 mm (.577") | 66,675 mm (2.625") | 38,74 mm (1.525") | 39,67 mm (1.562") | ​3/4"-16 | UNF-3A | ​12° | 4-10 In-Lbs | NMB Minebea | 17-4 PH stainless steel, heat treated | 17-4 PH stainless steel, heat treated | CRES 440C stainless steel, heat treated | 180° C (356° F) | ★★★ Performance Motorsport | male | HD |
| ARHTE12E(R) | ARHTLE12E(R) | ​19,050 mm (.750") | ​22,225 mm (.875") | 16,26 mm (.640") | 73,025 mm (2.875") | 45,09 mm (1.775") | 42,85 mm (1.687") | ​7/8"-14 | UNF-3A | ​13,6° | 4-10 In-Lbs | NMB Minebea | 17-4 PH stainless steel, heat treated | 17-4 PH stainless steel, heat treated | CRES 440C stainless steel, heat treated | 180° C (356° F) | ★★★ Performance Motorsport | male | HD |
| ART3E(R) | ARTL3E(R) | 4,826 mm (.190") | ​11,10 mm (.437") | 8,56 mm (.337") | 39,67 mm (1.562") | 20,47 mm (.806") | 24,59 mm (.968") | 5/16"-24 | UNJF-3A | ​16° | .5-6 In-Lbs | NMB Minebea | 17-4 PH stainless steel, heat treated | CRES 410 stainless steel, heat treated | CRES 440C stainless steel, heat treated | 121° C (250° F) | ★★★ Performance Motorsport | male | EQ |
| ART4E(R) | ARTL4E(R) | 6,350 mm (.250") | ​11,10 mm (.437") | 8,56 mm (.337") | 39,67 mm (1.562") | 20,47 mm (.806") | 24,59 mm (.968") | 5/16"-24 | UNJF-3A | ​16° | .5-6 In-Lbs | NMB Minebea | 17-4 PH stainless steel, heat treated | CRES 410 stainless steel, heat treated | CRES 440C stainless steel, heat treated | 121° C (250° F) | ★★★ Performance Motorsport | male | EQ |
| ART5E(R) | ARTL5E(R) | 7,938 mm (.3125") | ​11,10 mm (.437") | 8,31 mm (.327") | 47,625 mm (1.875") | 22,86 mm (.900") | 30,15 mm (1.187") | 5/16"-24 | UNJF-3A | ​14° | 1-10 In-Lbs | NMB Minebea | 17-4 PH stainless steel, heat treated | CRES 410 stainless steel, heat treated | CRES 440C stainless steel, heat treated | 121° C (250° F) | ★★★ Performance Motorsport | male | EQ |
| ART6E(R) | ARTL6E(R) | 9,525 mm (.375") | ​12,70 mm (.500") | 10,57 mm (.416") | 49,23 mm (1.938") | 26,04 mm (1.025") | 30,15 mm (1.187") | ​3/8"-24 | UNJF-3A | 9,4° | 1-10 In-Lbs | NMB Minebea | 17-4 PH stainless steel, heat treated | CRES 410 stainless steel, heat treated | CRES 440C stainless steel, heat treated | 121° C (250° F) | ★★★ Performance Motorsport | male | EQ |
| ART7E(R) | ARTL7E(R) | ​11,113 mm (.4375") | ​14,27 mm (.562") | 11,48 mm (.452") | 53,975 mm (2.125") | 29,21 mm (1.150") | 32,54 mm (1.281") | ​7/16"-20 | UNJF-3A | ​10,7° | 1-10 In-Lbs | NMB Minebea | 17-4 PH stainless steel, heat treated | CRES 410 stainless steel, heat treated | CRES 440C stainless steel, heat treated | 121° C (250° F) | ★★★ Performance Motorsport | male | EQ |
| ART8E(R) | ARTL8E(R) | ​12,700 mm (.500") | ​15,875 mm (.625") | 13,08 mm (.515") | 61,93 mm (2.438") | 33,96 mm (1.337") | 37,29 mm (1.468") | 1/2"-20 | UNJF-3A | 9,5° | 1-10 In-Lbs | NMB Minebea | 17-4 PH stainless steel, heat treated | CRES 410 stainless steel, heat treated | CRES 440C stainless steel, heat treated | 121° C (250° F) | ★★★ Performance Motorsport | male | EQ |
| ART10E(R) | ARTL10E(R) | ​15,875 mm (.625") | ​19,05 mm (.750") | 14,66 mm (.577") | 66,675 mm (2.625") | 38,74 mm (1.525") | 39,67 mm (1.562") | 5/8"-18 | UNJF-3A | ​12° | 1-10 In-Lbs | NMB Minebea | 17-4 PH stainless steel, heat treated | CRES 410 stainless steel, heat treated | CRES 440C stainless steel, heat treated | 121° C (250° F) | ★★★ Performance Motorsport | male | EQ |
| ART12E(R) | ARTL12E(R) | ​19,050 mm (.750") | ​22,225 mm (.875") | 16,26 mm (.640") | 73,025 mm (2.875") | 45,09 mm (1.775") | 42,85 mm (1.687") | ​3/4"-16 | UNJF-3A | ​13,6° | 1-10 In-Lbs | NMB Minebea | 17-4 PH stainless steel, heat treated | CRES 410 stainless steel, heat treated | CRES 440C stainless steel, heat treated | 121° C (250° F) | ★★★ Performance Motorsport | male | EQ |
| ART14E(R) | ARTL14E(R) | ​22,225 mm (.875") | ​22,225 mm (.875") | 19,43 mm (.765") | 85,725 mm (3.375") | 51,44 mm (2.025") | 50,80 mm (2.000") | ​7/8"-14 | UNJF-3A | 5,7° | 2-16 In-Lbs | NMB Minebea | 17-4 PH stainless steel, heat treated | CRES 410 stainless steel, heat treated | CRES 440C stainless steel, heat treated | 121° C (250° F) | ★★★ Performance Motorsport | male | EQ |
| ART16E(R) | ARTL16E(R) | ​25,400 mm (1.000") | ​34,93 mm (1.375") | 25,78 mm (1.015") | ​104,78 mm (4.125") | 70,48 mm (2.775") | 59,51 mm (2.343") | ​1 1/4"-12 | UNJF-3A | ​12° | 2-16 In-Lbs | NMB Minebea | 17-4 PH stainless steel, heat treated | CRES 410 stainless steel, heat treated | CRES 440C stainless steel, heat treated | 121° C (250° F) | ★★★ Performance Motorsport | male | EQ |
| ARTE4E(R) | ARTLE4E(R) | 6,350 mm (.250") | ​11,10 mm (.437") | 8,56 mm (.337") | 39,67 mm (1.562") | 20,47 mm (.806") | 24,59 mm (.968") | 5/16"-24 | UNF-3A | ​16° | 3-10 In-Lbs | NMB Minebea | 17-4 PH stainless steel, heat treated | 17-4 PH stainless steel, heat treated | CRES 440C stainless steel, heat treated | 180° C (356° F) | ★★★ Performance Motorsport | male | EQ |
| ARTE5E(R) | ARTLE5E(R) | 7,938 mm (.3125") | ​11,10 mm (.437") | 8,31 mm (.327") | 47,625 mm (1.875") | 22,86 mm (.900") | 30,15 mm (1.187") | 5/16"-24 | UNF-3A | ​14° | 3-10 In-Lbs | NMB Minebea | 17-4 PH stainless steel, heat treated | 17-4 PH stainless steel, heat treated | CRES 440C stainless steel, heat treated | 180° C (356° F) | ★★★ Performance Motorsport | male | EQ |
| ARTE6E(R) | ARTLE6E(R) | 9,525 mm (.375") | ​12,70 mm (.500") | 10,57 mm (.416") | 49,23 mm (1.938") | 26,04 mm (1.025") | 30,15 mm (1.187") | ​3/8"-24 | UNF-3A | 9,4° | 3-10 In-Lbs | NMB Minebea | 17-4 PH stainless steel, heat treated | 17-4 PH stainless steel, heat treated | CRES 440C stainless steel, heat treated | 180° C (356° F) | ★★★ Performance Motorsport | male | EQ |
| ARTE7E(R) | ARTLE7E(R) | ​11,113 mm (.4375") | ​14,27 mm (.562") | 11,48 mm (.452") | 53,975 mm (2.125") | 29,21 mm (1.150") | 32,54 mm (1.281") | ​7/16"-20 | UNF-3A | ​10,7° | 4-10 In-Lbs | NMB Minebea | 17-4 PH stainless steel, heat treated | 17-4 PH stainless steel, heat treated | CRES 440C stainless steel, heat treated | 180° C (356° F) | ★★★ Performance Motorsport | male | EQ |
| ARTE8E(R) | ARTLE8E(R) | ​12,700 mm (.500") | ​15,875 mm (.625") | 13,08 mm (.515") | 61,93 mm (2.438") | 33,96 mm (1.337") | 37,29 mm (1.468") | 1/2"-20 | UNF-3A | 9,5° | 4-10 In-Lbs | NMB Minebea | 17-4 PH stainless steel, heat treated | 17-4 PH stainless steel, heat treated | CRES 440C stainless steel, heat treated | 180° C (356° F) | ★★★ Performance Motorsport | male | EQ |
| ARTE10E(R) | ARTLE10E(R) | ​15,875 mm (.625") | ​19,05 mm (.750") | 14,66 mm (.577") | 66,675 mm (2.625") | 38,74 mm (1.525") | 39,67 mm (1.562") | 5/8"-18 | UNF-3A | ​12° | 4-10 In-Lbs | NMB Minebea | 17-4 PH stainless steel, heat treated | 17-4 PH stainless steel, heat treated | CRES 440C stainless steel, heat treated | 180° C (356° F) | ★★★ Performance Motorsport | male | EQ |
| ARTE12E(R) | ARTLE12E(R) | ​19,050 mm (.750") | ​22,225 mm (.875") | 16,26 mm (.640") | 73,025 mm (2.875") | 45,09 mm (1.775") | 42,85 mm (1.687") | ​3/4"-16 | UNF-3A | ​13,6° | 4-10 In-Lbs | NMB Minebea | 17-4 PH stainless steel, heat treated | 17-4 PH stainless steel, heat treated | CRES 440C stainless steel, heat treated | 180° C (356° F) | ★★★ Performance Motorsport | male | EQ |
| ARYT3E(R) | ARYTL3E(R) | 4,826 mm (.190") | ​12,70 mm (.500") | 5,59 mm (.220") | 38,10 mm (1.500") | 19,05 mm (.750") | 25,40 mm (1.000") | 5/16"-24 | UNF-3A | ​12,9° | .5-6 In-Lbs | NMB Minebea | 17-4 PH stainless steel, heat treated | CRES 410 stainless steel, heat treated | CRES 440C stainless steel | 121° C (250° F) | ★★★ Performance Motorsport | male | HM |
| ARYT4E(R) | ARYTL4E(R) | 6,350 mm (.250") | ​15,06 mm (.593") | 6,73 mm (.265") | 49,23 mm (1.938") | 25,40 mm (1.000") | 31,75 mm (1.250") | ​3/8"-24 | UNF-3A | 22,3° | 1-15 In-Lbs | NMB Minebea | 17-4 PH stainless steel, heat treated | CRES 410 stainless steel, heat treated | CRES 440C stainless steel | 121° C (250° F) | ★★★ Performance Motorsport | male | HM |
| ARYT5E(R) | ARYTL5E(R) | 7,938 mm (.3125") | ​20,65 mm (.813") | 9,02 mm (.355") | 53,975 mm (2.125") | 28,58 mm (1.125") | 34,93 mm (1.375") | ​7/16"-20 | UNF-3A | 22° | 1-15 In-Lbs | NMB Minebea | 17-4 PH stainless steel, heat treated | CRES 410 stainless steel, heat treated | CRES 440C stainless steel | 121° C (250° F) | ★★★ Performance Motorsport | male | HM |
| ARYT6E(R) | ARYTL6E(R) | 9,525 mm (.375") | ​20,65 mm (.813") | 9,02 mm (.355") | 53,975 mm (2.125") | 28,58 mm (1.125") | 34,93 mm (1.375") | ​7/16"-20 | UNF-3A | 22° | 1-15 In-Lbs | NMB Minebea | 17-4 PH stainless steel, heat treated | CRES 410 stainless steel, heat treated | CRES 440C stainless steel | 121° C (250° F) | ★★★ Performance Motorsport | male | HM |
| ARYT7E(R) | ARYTL7E(R) | ​11,113 mm (.4375") | ​22,225 mm (.875") | 9,02 mm (.355") | 61,93 mm (2.438") | 33,33 mm (1.312") | 38,10 mm (1.500") | 1/2"-20 | UNF-3A | 21,1° | 1-15 In-Lbs | NMB Minebea | 17-4 PH stainless steel, heat treated | CRES 410 stainless steel, heat treated | CRES 440C stainless steel | 121° C (250° F) | ★★★ Performance Motorsport | male | HM |
| ARYT8E(R) | ARYTL8E(R) | ​12,700 mm (.500") | ​23,80 mm (.937") | 10,44 mm (.411") | 66,675 mm (2.625") | 38,10 mm (1.500") | 41,28 mm (1.625") | 5/8"-18 | UNF-3A | ​18,8° | 1-15 In-Lbs | NMB Minebea | 17-4 PH stainless steel, heat treated | CRES 410 stainless steel, heat treated | CRES 440C stainless steel | 121° C (250° F) | ★★★ Performance Motorsport | male | HM |
| ARYT10E(R) | ARYTL10E(R) | ​15,875 mm (.625") | ​30,48 mm (1.200") | 14,66 mm (.577") | 73,025 mm (2.875") | 44,45 mm (1.750") | 44,45 mm (1.750") | ​3/4"-16 | UNF-3A | ​19,3° | 1-15 In-Lbs | NMB Minebea | 17-4 PH stainless steel, heat treated | CRES 410 stainless steel, heat treated | CRES 440C stainless steel | 121° C (250° F) | ★★★ Performance Motorsport | male | HM |
| ARYT12E(R) | ARYTL12E(R) | ​19,050 mm (.750") | ​32,51 mm (1.280") | 16,00 mm (.630") | 85,725 mm (3.375") | 50,80 mm (2.000") | 47,63 mm (1.875") | ​7/8"-14 | UNF-3A | ​17,9° | 1-15 In-Lbs | NMB Minebea | 17-4 PH stainless steel, heat treated | CRES 410 stainless steel, heat treated | CRES 440C stainless steel | 121° C (250° F) | ★★★ Performance Motorsport | male | HM |
| ARYT14E(R) | ARYTL14E(R) | ​22,225 mm (.875") | ​35,56 mm (1.400") | 16,13 mm (.635") | 95,25 mm (3.750") | 55,88 mm (2.200") | 50,80 mm (2.000") | ​7/8"-14 | UNF-3A | ​17,4° | 1-15 In-Lbs | NMB Minebea | 17-4 PH stainless steel, heat treated | CRES 410 stainless steel, heat treated | CRES 440C stainless steel | 121° C (250° F) | ★★★ Performance Motorsport | male | HM |
| ARYT16E(R) | ARYTL16E(R) | ​25,400 mm (1.000") | ​47,625 mm (1.875") | 21,46 mm (.845") | ​104,78 mm (4.125") | 69,85 mm (2.750") | 53,98 mm (2.125") | ​1 1/4"-12 | UNF-3A | ​20° | 1-24 In-Lbs | NMB Minebea | 17-4 PH stainless steel, heat treated | CRES 410 stainless steel, heat treated | CRES 440C stainless steel | 121° C (250° F) | ★★★ Performance Motorsport | male | HM |
| ARYT20E(R) | ARYTL20E(R) | ​31,750 mm (1.250") | ​47,625 mm (1.875") | 25,78 mm (1.015") | ​127,00 mm (5.000") | 79,38 mm (3.125") | 73,02 mm (2.875") | ​1 1/4"-12 | UNF-3A | ​20° | 1-24 In-Lbs | NMB Minebea | 17-4 PH stainless steel, heat treated | CRES 410 stainless steel, heat treated | CRES 440C stainless steel | 121° C (250° F) | ★★★ Performance Motorsport | male | HM |
| ARYTE4E(R) | ARYTLE4E(R) | 6,350 mm (.250") | ​15,06 mm (.593") | 6,73 mm (.265") | 49,23 mm (1.938") | 25,40 mm (1.000") | 31,75 mm (1.250") | ​3/8"-24 | UNF-3A | ​​​24,6° | 3-8 In-Lbs | NMB Minebea | 17-4 PH stainless steel, heat treated | 17-4 PH stainless steel, heat treated | CRES 440C stainless steel, heat treated | 180° C (356° F) | ★★★ Performance Motorsport | male | HM |
| ARYTE5E(R) | ARYTLE5E(R) | 7,938 mm (.3125") | ​15,875 mm (.625") | 9,02 mm (.355") | 53,975 mm (2.125") | 28,58 mm (1.125") | 34,93 mm (1.375") | ​7/16"-20 | UNF-3A | ​​​20,2° | 3-10 In-Lbs | NMB Minebea | 17-4 PH stainless steel, heat treated | 17-4 PH stainless steel, heat treated | CRES 440C stainless steel, heat treated | 180° C (356° F) | ★★★ Performance Motorsport | male | HM |
| ARYTE6E(R) | ARYTLE6E(R) | 9,525 mm (.375") | ​20,65 mm (.813") | 9,02 mm (.355") | 53,975 mm (2.125") | 28,58 mm (1.125") | 34,93 mm (1.375") | ​7/16"-20 | UNF-3A | ​​24° | 3-10 In-Lbs | NMB Minebea | 17-4 PH stainless steel, heat treated | 17-4 PH stainless steel, heat treated | CRES 440C stainless steel, heat treated | 180° C (356° F) | ★★★ Performance Motorsport | male | HM |
| ARYTE7E(R) | ARYTLE7E(R) | ​11,113 mm (.4375") | ​22,225 mm (.875") | 9,02 mm (.355") | 61,93 mm (2.438") | 33,33 mm (1.312") | 38,10 mm (1.500") | 1/2"-20 | UNF-3A | ​​23,5° | 4-10 In-Lbs | NMB Minebea | 17-4 PH stainless steel, heat treated | 17-4 PH stainless steel, heat treated | CRES 440C stainless steel, heat treated | 180° C (356° F) | ★★★ Performance Motorsport | male | HM |
| ARYTE8E(R) | ARYTLE8E(R) | ​12,700 mm (.500") | ​23,80 mm (.937") | 10,44 mm (.411") | 66,675 mm (2.625") | 38,10 mm (1.500") | 41,28 mm (1.625") | 5/8"-18 | UNF-3A | ​​24,3° | 4-10 In-Lbs | NMB Minebea | 17-4 PH stainless steel, heat treated | 17-4 PH stainless steel, heat treated | CRES 440C stainless steel, heat treated | 180° C (356° F) | ★★★ Performance Motorsport | male | HM |
| ARYTE10E(R) | ARYTLE10E(R) | ​15,875 mm (.625") | ​30,48 mm (1.200") | 14,66 mm (.577") | 73,025 mm (2.875") | 44,45 mm (1.750") | 44,45 mm (1.750") | ​3/4"-16 | UNF-3A | ​​20,5° | 4-10 In-Lbs | NMB Minebea | 17-4 PH stainless steel, heat treated | 17-4 PH stainless steel, heat treated | CRES 440C stainless steel, heat treated | 180° C (356° F) | ★★★ Performance Motorsport | male | HM |
| ARYTE12E(R) | ARYTLE12E(R) | ​19,050 mm (.750") | ​32,51 mm (1.280") | 16,00 mm (.630") | 85,725 mm (3.375") | 50,80 mm (2.000") | 47,63 mm (1.875") | ​7/8"-14 | UNF-3A | ​19,5° | 4-10 In-Lbs | NMB Minebea | 17-4 PH stainless steel, heat treated | 17-4 PH stainless steel, heat treated | CRES 440C stainless steel, heat treated | 180° C (356° F) | ★★★ Performance Motorsport | male | HM |
| ARHT4E(R) | ARHTL4E(R) | 6,350 mm (.250") | 9,525 mm (.375") | 8,56 mm (.337") | 39,67 mm (1.562") | 20,47 mm (.806") | 24,59 mm (.968") | 5/16"-24 | UNF-3A | 5,5° | .5-6 In-Lbs | NMB Minebea | 17-4 PH stainless steel, heat treated | CRES 410 stainless steel, heat treated | CRES 440C stainless steel | 121° C (250° F) | ★★★ Performance Motorsport | male | HD |
| ARHT5E(R) | ARHTL5E(R) | 7,938 mm (.3125") | ​11,10 mm (.437") | 8,31 mm (.327") | 47,625 mm (1.875") | 22,86 mm (.900") | 30,15 mm (1.187") | ​3/8"-24 | UNF-3A | ​14° | 1-10 In-Lbs | NMB Minebea | 17-4 PH stainless steel, heat treated | CRES 410 stainless steel, heat treated | CRES 440C stainless steel | 121° C (250° F) | ★★★ Performance Motorsport | male | HD |
| ARHT6E(R) | ARHTL6E(R) | 9,525 mm (.375") | ​12,70 mm (.500") | 10,57 mm (.416") | 49,23 mm (1.938") | 26,04 mm (1.025") | 30,15 mm (1.187") | ​7/16"-20 | UNF-3A | 9,4° | 1-10 In-Lbs | NMB Minebea | 17-4 PH stainless steel, heat treated | CRES 410 stainless steel, heat treated | CRES 440C stainless steel | 121° C (250° F) | ★★★ Performance Motorsport | male | HD |
| ARHT7E(R) | ARHTL7E(R) | ​11,113 mm (.4375") | ​14,27 mm (.562") | 11,48 mm (.452") | 53,975 mm (2.125") | 29,21 mm (1.150") | 32,54 mm (1.281") | 1/2"-20 | UNF-3A | ​10,7° | 1-10 In-Lbs | NMB Minebea | 17-4 PH stainless steel, heat treated | CRES 410 stainless steel, heat treated | CRES 440C stainless steel | 121° C (250° F) | ★★★ Performance Motorsport | male | HD |
| ARHT8E(R) | ARHTL8E(R) | ​12,700 mm (.500") | ​15,875 mm (.625") | 13,08 mm (.515") | 61,93 mm (2.438") | 33,96 mm (1.337") | 37,29 mm (1.468") | 5/8"-18 | UNF-3A | 9,5° | 1-10 In-Lbs | NMB Minebea | 17-4 PH stainless steel, heat treated | CRES 410 stainless steel, heat treated | CRES 440C stainless steel | 121° C (250° F) | ★★★ Performance Motorsport | male | HD |
| ARHT10E(R) | ARHTL10E(R) | ​15,875 mm (.625") | ​19,05 mm (.750") | 14,66 mm (.577") | 66,675 mm (2.625") | 38,74 mm (1.525") | 39,67 mm (1.562") | ​3/4"-16 | UNF-3A | ​12° | 1-10 In-Lbs | NMB Minebea | 17-4 PH stainless steel, heat treated | CRES 410 stainless steel, heat treated | CRES 440C stainless steel | 121° C (250° F) | ★★★ Performance Motorsport | male | HD |
| ARHT12E(R) | ARHTL12E(R) | ​19,050 mm (.750") | ​22,225 mm (.875") | 16,26 mm (.640") | 73,025 mm (2.875") | 45,09 mm (1.775") | 42,85 mm (1.687") | ​7/8"-14 | UNF-3A | ​13,6° | 1-10 In-Lbs | NMB Minebea | 17-4 PH stainless steel, heat treated | CRES 410 stainless steel, heat treated | CRES 440C stainless steel | 121° C (250° F) | ★★★ Performance Motorsport | male | HD |